With over 400 delegates in attendance, 2000+ meals prepared and 20 packed concurrent sessions, the sold out 37th Annual Conference was a huge success! From the opening plenary to the Monday evening gala dinner, the conferece was not only informative, but fun too! Thank you to all those who attended.
Below are some resources for you to download as well as pictures from the conference. See you at the Minister's Luncheon in October!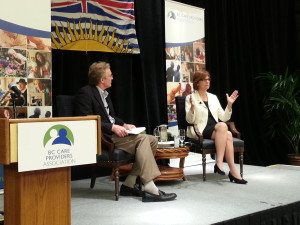 Conference Agenda
Click here for a PDF version of the 2014 conference agenda.
Speaker Notes and Presentation
National Dementia Strategy: What Are We Waiting For?
Presentation slides- Dr. Diane Finegood, President & CEO, Michael Smith Foundation for Health Research 
Presentation slides- Mimi Lowi-Young, CEO, Alzheimer Society of Canada
Presentation slides/ Resources and links– Claude Gravelle, Member of Parliament (Nickel
Belt)
BC's Residential Care Funding Model – Lessons From Alberta
Supporting Document– Rizwan Gehlen, Vice President, Finance, Park Place Seniors Living Inc
The Costs of Not Being Safe
Presentation slides- John Lam, Industry Specialist, WorkSafeBC
The Use of Technology in Delivering Home Support Services
Presentation slides- Margaret Kun, Vice President, Home Support, Beacon Community
Services
Care Aide Registry Models: Around the World in 60 Minutes Sara
Presentation slides- Anita Dickson, Representative of Licensed Practical Nurses
Association of BC
Presentation slides- Deborah Simon, CEO, Ontario Community Support Association
Transformative Integration: Next Generation Home Care through e-Health
Presentation slides- Elissa Kraus Gamble, Director of Regional Development, Bayshore Home Health
SafeCare BC – A Dialogue with the New Executive Director
Presentation slides-Jennifer Lyle, Executive Director, SafeCare BC
Personal Budgets in Home Care
Presentation slides- Shannon Berg, Executive Director, Home and Community Care, Vancouver Coastal Health
Authority
Presentation slides- Lois Cosgrave, Director, Home & Community Care and End of Life, Island Health
Pain Management in Seniors
Presentation slides- Neemet McDowell, Clinical Care Pharmacist, Safeway Operations; President-Elect,
Canadian Society of Consultant Pharmacists
Effective Interviewing of Residents after a Critical Incident
Presentation slides- Dr. Barry Cooper, Ph.D., R. Psych., Director of Research and Development, The Forensic
Alliance
A Collaborative Approach to Improving Workplace Safety
Presentation slides- Debbie Yule, Vice President, Industry Training, go2
Presentation slides- Maria Howard, CEO, Alzheimer Society of B.C
Faith-Based Care: Unique Opportunities Based on a Legacy of Spiritual Values
Presentation slides- Karen Baillie, CEO, Menno Place
A Fine Balance – Fostering Independence and Involvement in Decision Making with Adults in Need of Service from the PGT
Presentation slides- Leanne Dospital, Regional Manager, Public Guardian and Trustee of BC
Silver Alert: Local & First Responders' Perspectives
Presentation slides- Sean Magnusson, Safety Officer, Surrey Search & Rescue; Provincial Electronic Search 
Specialist Instructor, Project Lifesaver
Presentation slides- Kathy Kennedy, Director of Programs & Services, Alzheimer Society
of B.C.
Become a Scheduling Genius with Procura
Presentation slides- Susan Gains, Senior Sales Executive, Procura
Health and safety training for long-term care: needs through the eyes of front line staff
and employers – SafeCare BC
Addressing the Needs of Canadian Seniors: Early Experiences with Planning and Operationalizing an Innovative Needs-Based Home Care Agency in BC
Presentation slides- Susan Scott Gabe, Managing Director, Care at Home Services
Labour Relations Update: Whipsawing Across B.C.
Presentation slides available upon request
Najeeb Hassan, Lawyer, Roper Greyell LLP
Peter Kafka, Peter Kafka Consulting Ltd.
Michael Marchbank, President & CEO, Health Employers Association of BC
Photo Album
To view more photos, click here!
YouTube Video
A short souvenir video of the conference can be seen below:

Title Sponsor:


Gold Sponsor: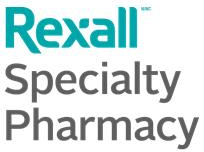 Silver Sponsors:
Golf Tournament Sponsor: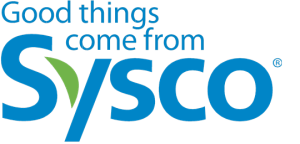 Monday Lunch Sponsor:

Monday Night Dinner Reception:

Coffee Break Sponsors: