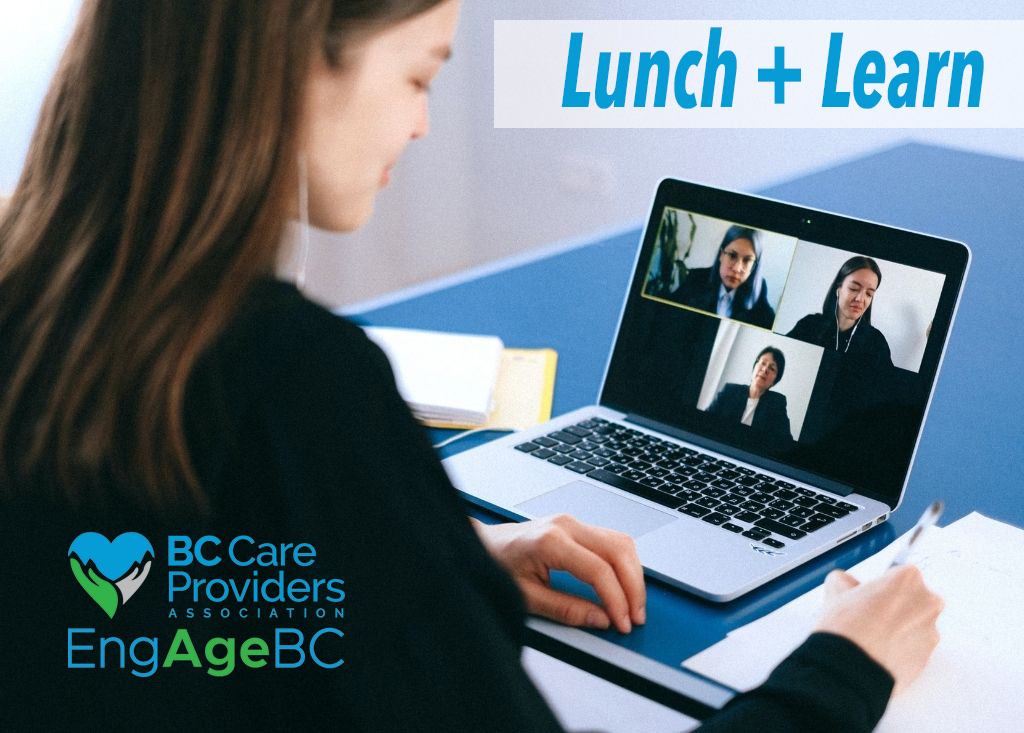 Upcoming
Putting your Oxygen Mask on First: Lessons for Healthcare Leaders
Setting healthy boundaries. Focusing on what's most important. Developing creative self-care practices. These are some of the themes that healthcare leaders across BC identified as having a significant impact on their well-being Join us for a 75-minute webinar in which our facilitator, Coach Callie, will lead you through an interactive session on the things that will help you and other healthcare leaders achieve well-being. You'll have an opportunity to share the things that have contributed to your well-being.
SafeCare BC launched what became a hugely sought-after program, called Leading from the Inside Out, that focused specifically on supporting the well-being of leaders. Over 40 leaders from across the province have participated in this program. From them, we've learned what's made some of the biggest impacts to their well-being – and we want to share what we've learned with you.
Here are some of the themes we'll cover:
Being a present, visible, and empathetic leader.
Setting healthy boundaries and focusing on what's most important
Developing creative and resourceful self-care practices.
Providing clear, regular, and consistent communication.
Receiving organizational support – from employees to boards of directors.
This webinar is co-hosted by SafeCare BC and the BC Care Providers Association.
Date: January 27th, 2022
Time: 9:15 AM – 10:30 AM PST
 Zoom Webinar
On Demand
Reducing Barriers to Recruitment for Health Care Assistants*
*Everyone Welcome
Choose2Care, a program under Health Match BC, launched in 2019 through partnership with the provincial government, employers, educators, and industry associations. The purpose of Choose2Care is to increase public awareness of the Health Care Assistant profession and to provide potential HCAs with the information they need to train, register, and become employed in BC.
The Health Care Assistant team also offers a suite of bursaries and stipends to financially support HCAs at different stages of their registration and employment processes. We welcome managers to join us and to learn more about the different registration pathways and related initiatives aimed to reduce barriers to recruitment of HCAs.
Paid Sick Leave in Seniors' Care & Living*
BC Care Providers Association | EngAge BC will be joined by Danny Bernstein, partner at Roper Greyell, for an in-depth look at the impacts of the new permanent paid sick leave provision that is coming into effect on January 1st, 2022 under the Employment Standards Act.
Danny will outline the anticipated impacts for seniors' care and living providers, and answer questions such as:
How will the new paid sick leave impact existing collective agreements?
What do I need to know about the "meet or exceeds" clause?
How does the policy apply to my full-time, part-time and casual employees?
What about independent contractors?
The COVID-19 Presumptive Clause: What Care Providers Need to Know
Despite high rates of vaccination among residents and workers in the health care sector, the highly transmissible delta variant is continuing to cause breakthrough infections in seniors' care and living settings. And where there are COVID-19 cases, there are COVID-19 claims.
Join us, for an in-depth explanation on how the WorkSafe BC "presumptive clause" applies to COVID-19 claims in the long-term care (CU #766011), community health support (CU #766006), and retirement living (CU #766018) sectors.
Co-hosted by BCCPA and SafeCare BC, and facilitated by Lauren Thom, Client ervices Manager for WorkSafeBC, this webinar addresses questions such as:
What is the presumptive clause and how does to apply to SARS-CoV-2?
What does the presumptive clause mean for claims costs in the seniors' care and living sector?
What factors are taken into account during an investigative claim for COVID-19?
What role does asymptotic transmission play?
International Talent Solutions for the Seniors' Care Workforce
In a world shaped by the COVID-19 pandemic, it is more challenging than ever for employers to find local talent to meet the growing demand for seniors' care and living services. Care operators are increasingly seeking to recruit international talent to join their team, but face may roadblocks at every step of the process.
Join us,  for an in-depth discussion on how internationally sourced talent can help address workforce challenges in the long-term care, assisted living, home health and independent living sectors.
Facilitated by Rob Mingay and Laleh Sabha from TalentBox Workforce Development Inc, this webinar provided an overview of the benefits of attracting international talent, strategies for recruitment, and how to integrate international workers into your business and the local community. Time will also be provided to address questions from the audience—delegates are encouraged to submit their question in advance.
For more information on TalentBox or to book a private consultation, please email Laleh@talentboxcanada.com or call 778 883 6077.
Mandatory COVID-19 Vaccinations for Seniors Living and Care Staff
During the COVID-19 pandemic the issue of vaccination of front line staff has been top of mind for those providing care and services to our most vulnerable seniors population. Quebec has passed a bill mandating vaccination or regular screening for all front line health care workers. While BC has not indicated it will take similar action, there have been calls from the Canadian Medical Association and from some care providers to advocate for this.
Join us for our latest virtual lunch and learn panel discussion moderated by Terry Lake, BC Care Provider Association | EngAge BC CEO, on the ethical implications of mandating COVID-19 vaccinations, allowing the refusal of vaccinations, and making trade-offs between personal liberty and public health.
Al Jina, LLB, President and CEO of Park Place Seniors Living
Dr. Annalee Yassi, Professor, School of Population and Public Health, University of British Columbia
Barb MacLean, Executive Director of Family Caregivers of BC
Screening for COVID-19: Using Rapid Tests in Continuing Care Settings
BC Care Providers Association and SafeCare BC presented an important and timely Lunch + Learn online forum with the Provincial Health Services Authority (PHSA) on Screening for COVID-19: Using Rapid Tests in Continuing Care Settings.
Hear directly from health officials and care providers on how rapid testing is being used as an effective COVID-19 screening tool in care homes, and how interested operators across the sector can participate.
Technology Solutions for the Health Human Resource Crisis
An in-depth look at how technology and cutting-edge software tools are helping solve the healthcare labour shortage crisis and other critical staffing challenges in long-term care and senior living homes today.
Hendrik Van Ryk, BC Care Provider Association (BCCPA) Board Vice President, member of the BCCPA Health Human Resources Committee, and Chief Operations Officer of H&H Total Care Services, sat down with Curtis Khan CEO and Founder of BookJane, a leading workforce management solution. Along with BookJane's Michael Li, VP Operations, they explored how technology can be effectively utilized to mobilize workforce quickly, easily and more efficiently to significantly increase staff retention and engagement, and provide greater consistency and continuity in quality patient and resident care.
Joined by Jessica Poling, Senior Director of Employee Services with Seasons Retirement Communities, a current BookJane client, the panel provided a real-world example of how powerful new tools and technologies like BookJane can be seamlessly integrated and become a pivotal game-changer for your homes in the age of COVID-19.
Among many innovative and time-saving features, BookJane's J360 platform also has several important COVID management features built in. These features include the ability to bubble staff by facility and by zone.
For more information on BookJane, or to book a private demo, please email curtis@bookjane.com or call 416-352-8636
BookJane is a Premiere Partner of our Annual Conference The Three R's: Reflection, Resilience, Reinvention
You Don't Need to Do it Alone: Supporting Families Through Grief and Loss
On March 2, 2021, Dr. Henry indicated that the province was looking to reallow family visits in long-term care and assisted living, as early as the end of this month. From the perspective of the BC Care Providers Association this news is heartening, as the association has been advocating to reinstate family visits for many months.
There are many things to consider as our members look towards welcoming family caregivers back into long-term care and assisted living homes. Particularly, it is likely that upon being reunited with residents, some family members will experience feelings of grief and loss. In many cases these emotions will be triggered by the physical and cognitive changes they notice after being apart from their family members for such a long period of time.
With guests from the Alzheimer Society of B.C., the Family Caregivers of B.C., and the Vancouver Island Association of Family Councils this webinar will overview the support services which long-term care and assisted living staff can draw on to support family caregivers.
Cross Training of Staff in Safe Client Handling to Ensure Continuity of Care
As we continue to learn more about COVID-19 and prepare for the possible upcoming waves, we are all well aware that we still have a job to do. Residents need to be lifted, transferred, repositioned & supported, and it needs to be done safely in order to mitigate musculoskeletal injuries to caregivers, decrease the risk of resident falls, prevent and manage pressure injuries, and ensure cleaning and laundry recommendations are adhered to as part of an overall infection control strategy.
In these uncertain times, we continue to need "all hands on deck". In this session you will learn how to:
Provide quick and easy "in the moment learning" tools and resources for sling use with transfers, lifts, turning and repositioning
Examine sling basics, sling anatomy, functions and features
Choose a sling & options for infection control
Understand "how to" size users for slings
Explore how to complete a sling trial fitting guide
Review a pre-use inspection of a sling
Learn about recommended laundry instructions
Gain knowledge on sling application tips
COVID-19: Shifting Care Activities to Unregulated Care Providers
As the COVID-19 pandemic was evolving, considerations were being made to the impact this was having on staff resources in seniors' living and the wellness sector. To help support staffing needs and to help manage employee exhaustion many homes were leveraging unregulated care providers (UCPs)/Health Care Aids (HCA) to provide activities of daily living.
The presenters will provide an overview of the shift in care responsibilities as it pertains to medication administration to the UCPs and how the development of an interactive online training tool can help support their role in the safe delivery of medication to residents.
Presenters will demonstrate the multimodal learning strategies used to delivery medication administration training and how this can be used to develop the necessary knowledge and skills in UCPs/HCA. The session will also highlight the collaborative approach used in the development of a learning management system and provide an overview of its features and how this can be applied to other sectors. Provide recommendations on how a UCP should maintain their medication administration skills.
This presentation will equip attendees with the knowledge to be prepared to meet the challenges of COVID-19 and the impact it has on staff resources.
Managing Incontinence During COVID-19
This webinar will provide the learner with a basic understanding of continence care practices during Covid-19 by:
Ensuring the safe effective use of TENA Offering a practical and efficient approach to ensure effective support of clients.
Equipping learners with skills and confidence to utilize TENA products effectively.
Highlighting correctly assessed/sized briefs/products offer efficiencies, are less likely to leak, cause skin issues and repeated changes.
Offer understanding of infection prevention practices as they relate to continence care.
This webinar, presented by Katharine Burt, Clinical Director, Essity Canada, builds off of a collaborative project led by Dr. Veronique Boscart, the Executive Director of the Schlegel Centre for Advancing Seniors Care and Canadian Institutes for Health Research (CIHR)/Schlegel Industrial Research Chair for Colleges (IRCC) in Seniors Care, with support from the Natural Sciences and Engineering Research Council of Canada.
The Race for a COVID-19 Vaccine
The COVID-19 global pandemic has had a tremendous impact on not only our day-to- day lives but has devastated long-term care, assisted and independent living residential communities. The impact of this novel coronavirus has engaged the global community to combat this deadly infectious disease with a race to develop a preventative vaccine to stop the spread. This workshop will showcase the novel coronavirus, the race for a vaccine and take attendees on a journey from past, present and future to explore how the swift response in BC directly impacted the devastation that COVID-19 has caused in other regions.
This roadmap will begin with a historic overview of global outbreaks and the impact they have had both domestically and abroad. Despite the advancements in technology and medicine, we find ourselves in a similar global outbreak and now more than ever we understand how the absence of vaccines for a deadly infectious disease can change our daily lives. The development of a new vaccine is a complex process and there are several critical scientific effectiveness and safety considerations that have to occur prior to approval. With over 100 COVID-19 vaccines currently in development each one utilizes different innovative approaches while also presenting with inherent challenges when immunizing individuals spanning different ages and health status. Given the disproportionate impact of COVID-19 on older adults and vulnerable populations, there are also ethical considerations for vaccine access that could create dilemma's in the very near future.
As COVID-19 continues to circulate in Canada and the fall season has begun there are greater threats on the horizon. This year more than ever respiratory infection prevention and influenza vaccination will be important, as well as other tools that you can utilize to protect yourself as the race for a COVID-19 vaccine(s) continues.
This webinar, presented by Dr. Dione Neame, Country Medical Head , Sanofi Pasteur, Canada, aims to engage and inspire viewers to not only gain a better understanding of the COVID-19 situation in Canada but to also empower them with knowledge that will protect them from current and future infectious diseases.
Groundbreaking Clinical Research Revealing the Effectiveness of Therapeutic Seating in Reducing Pressure Injuries
While guidance is available on pressure injury prevention and management, there's been little information addressing the issue of non-ambulatory patients. The role of specialist seating is often overlooked. This research indicates the effectiveness of a seating program and its impact on pressure injury incident in long-term care. This will help improve patient care through using a therapeutic seating in order to reduce pressure injuries, encourage early mobilization and reduce caregiver manual handling and labor. Having conducted this ethically approved, clinical research in real life care settings, makes it manageable for the outcomes to be replicated and improve clinical practice.
In this session you will:
Understand the effectiveness of therapeutic setting on pressure care, fall prevention, early mobilization;
Learn how to perform seating assessments for clients with complex needs and various spinal presentations;
Understand the staging guidelines for pressure injuries & Four Principles of Pressure Management in Seating
How Technology helped Menno Place through the Pandemic
Prior to COVID-19, reducing social isolation, loneliness, and depression was one of your top priorities, and we've made it one of ours, as well, during these unprecedented times. Technology can have a positive impact on the quality of life of our most vulnerable population, especially now during a pandemic.
Menno Place was able to accomplish just that through the power of technology, and this session will cover how it helped them during COVID-19.
This webinar, hosted by TELUS Business, will take the form of a Q&A with the Executive Director, Finance & Operations and Director, Community Enrichment from Menno Place. We are hoping this session will allow you to gain knowledge and expertise from one of your peers by hearing how they navigated this new world with the assistance of technology.
In this session, you will:
Understand how Menno Place used technology to reduce social isolation and entertain their residents during these difficult times
Learn how they were able to ensure residents could keep practicing their faith
Gain knowledge on how they communicated critical messaging to residents and their loved ones
Find out whether or not they think Wi-Fi is crucial in a seniors living residence
Digitizing Infection Prevention & Control to help Manage COVID-19 and Beyond
The COVID-19 pandemic has brought renewed attention to the long-term care sector and its capacity to handle critical issues related to infection prevention and control. Infections and outbreaks affect resident care both directly and indirectly, creating multiple challenges for frontline staff and management to provide quality care.
In early April, PointClickCare launched an Infection Prevention and Control (IPC) solution for all of its customers in Canada and the United States. IPC is a clinical workflow and intelligence solution that helps Infection Preventionists and care teams perform ongoing resident surveillance focused on infection prevention. The capabilities of the Infection Prevention and Control solution include:
Access to a repository of infection cases in a single, accessible location to ensure that care staff and administration can effectively manage infection cases
Replace the manual efforts required to compile infection case information, including COVID-19, by attaching information already documented in PointClickCare
Capture resident condition using industry accepted standards to correlate the symptoms of infections to ensure a consistent approach in all residents showing signs of infection
Interactive dashboards that display real-time infection case information
In this session, PCC product experts, as well as local operators, will provide participants with an overview of the solution, and how it can enable homes to prepare and manage a second wave of COVID-19. Local operators, including The Care Group, will speak about their experience deploying the solution across their homes and how it informed their response to COVID-19. They will also lead a discussion on how they are preparing for a potential second wave, and what lessons they have learned from their experience in dealing with the pandemic these last few months. The focus will be on how not just data, but actionable insights can help operators and staff prepare for and manage infections and outbreaks on an ongoing basis.
This session will:
Increase your understanding of key IPC principles in long-term care, and the data that is needed to support them
Provide a discussion how data can inform the operations of the home, including care delivery and managerial decision making to support residents and staff
Allow you to learn from the experiences of operators in managing the first wave of COVID-19 and how they are preparing for a second wave
COVID Detection, Prevention, & Enhancing Your Residence Experience: How Building Automation Solutions Solve Your Toughest Challenges
Senior living executives face insurmountable pressure to reduce overhead expenses without compromising resident care and services. During this workshop we will present why smart building solutions are right for senior living communities.
Resident safety, health and overall satisfaction
Residents stay more comfortable through properly maintained HVAC, and lighting controls and refrigeration monitoring allow for greater medication adherence and overall food safety. Current guidelines from CDC/ASHRAE are putting recommendations in place to modifying HVAC systems to handle the COVID-19 pandemic to include some or all of the following activities; increase ventilation rates, increase the percentage of outdoor air that circulates into the system and vapor pressure and relative humidity.
Reduced errors and other issues
Automating systems, including lighting, HVAC, refrigeration monitoring, and alarm or alert systems for equipment and safety, reduces the risk of a potential accident resulting from facility equipment, including medical devices, and eliminates errors in reporting. If an issue does occur, documentation ensures a timely resolution, further strengthening a community's quality of care and maintaining the safety of residents.
Lower implementation costs
Disruption of the therapeutic care environment can have a disastrous effect on mental and physical health. Today's "smart" systems are designed for seniors housing operators to integrate with existing facilities management systems without disruption to care environments or quality of life. Using wireless technology, modern smart building technologies can be retrofitted with legacy systems, allowing facility managers to collect actionable data and continuously improve business processes.
Increased property values
Simple enhancements, such as using an advanced power strip, can contribute to overall savings, reports the Department of Energy. Smart building technology amplify those savings across an entire facility, and senior living communities can achieve sustainability, profitability and a higher quality of care. This is the ultimate win-win for seniors, real estate investment trusts, community stakeholders and healthcare organizations.