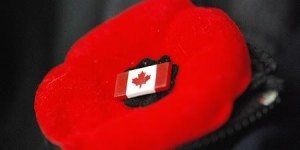 Remembrance Day events across B.C.'s Lower Mainland on Tuesday will commemorate the memory of the thousands of people who have sacrificed their lives in military service as well as acknowledge Canada's senior veterans.
Each year BCCPA member Broadmead Care hosts a Thank A Veteran initiative, in which community members can write words of thanks to the veterans at the Lodge.The notes are then posted for a ceremony on Remembrance Day. The Veterans Health Centre at Broadmead Lodge is the only centre in Greater Victoria that provides health, social and recreational services for WWII veterans living in the community.
As part of a Remembrance Day special, the profile below features the story of 98 year-old resident, Earl Kitchener Clark, who is a current resident at the Lodge at Broadmead.
+++