Feature image: Over 500 candidates for health care aide positions lined up for opportunities at a Calgary job fair hosted on May 1, 2019
Premier Horgan asked to intervene and reduce red tape roadblock before July 1st
Burnaby, B.C. (May 13, 2019): A dramatic shortage of seniors' health care aides in the B.C. Interior, stemming in part from onerous rules and red tape resulting from the B.C. Care Aide and Community Health Worker Registry, have led a group of care providers to declare a health human resources emergency in the region. The providers are calling upon Premier John Horgan to take immediate action to help fill the estimated 252 full-time equivalent care aide positions that are currently unfilled in the Interior.
"The Care Aide Registry requirements deter qualified workers in neighbouring provinces from coming to B.C. to care for our seniors," says Daniel Fontaine, CEO of BC Care Providers Association (BCCPA). "In order for a health care assistant to work in a B.C. care home, they must first travel to Vancouver at their expense and take a credential assessment test. Not only are job candidates required to pay hundreds of dollars to take the exam, they are also on the hook for travel costs and accommodation.
"The provincial credential assessment process has a very concerning 99-per cent fail rate for everyone tested — including those who have recently graduated from certified public institutions in Alberta or Saskatchewan, or were trained as registered or licensed practical nurses outside of Canada," says Fontaine.
"The current system is complex, costly for applicants, and results in qualified care aide job candidates looking elsewhere to find work. Seniors are the ones who are being impacted the most."
BCCPA has sent a letter to Premier Horgan, the Leader of the Opposition, the Leader of the Green Party, as well as the Minister of Health calling upon the provincial government to immediately amend restrictive provincial hiring policies that deter certified health care aides trained in neighbouring Alberta and Saskatchewan, in order to allow job candidates to find employment in the Interior Health region as soon as possible.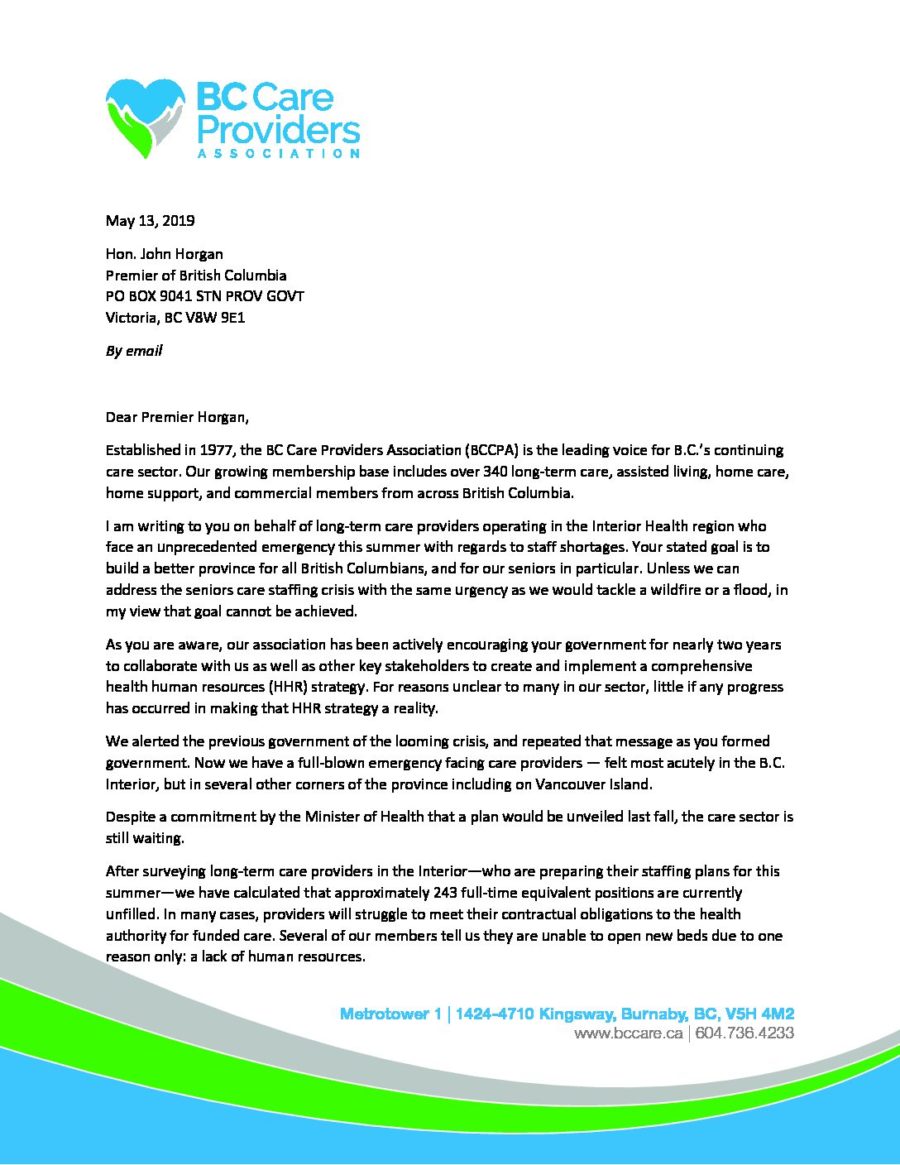 BCCPA is recommending that policies related to the Care Aide Registry be amended temporarily, in order to allow care aides from the provinces of Alberta and Saskatchewan to be hired by care providers in the Interior Health region, provided they have successfully completed a recognized training program at a registered education institution in their respective home provinces, and have cleared a criminal record check. This measure would remain in effect until such time as the health human resource emergency has been addressed.
"We are in the midst of a health human resources crisis in communities stretching from Kamloops, Salmon Arm, Vernon and right down to Summerland and Penticton, yet we refuse to treat it like a genuine crisis such as we do with wildfires and floods," adds Fontaine. "That must change, and it will take action from the Premier's office to make that happen."
Certified care aides from Alberta and Saskatchewan seeking work in the Interior Health region are currently required to spend as much as $800 on credential assessment fees, as well as pay for their travel and accommodation to Vancouver – the only location which currently offers the testing. For some care aides, this cost can escalate to upwards of $4,500 or more after additional courses and training.  All care aides working for publicly funded care homes are required to register with the Care Aide Registry.
The BC Care Providers has been in discussion the BC Government for over two years to activate a comprehensive health human resources strategy. This has included holding a BC Continuing Care Collaborative in partnership with the Ministry of Health, where Health Minister Adrian Dix was the keynote speaker. BCCPA is also reviewing the terms of the New West Partnership – a trade and labour mobility agreement between B.C., Alberta and Saskatchewan – to see if the agreement permits the fast-tracking of hiring care aides.
At a job fair held in Calgary on May 1st, over 500 care aides queued up to learn more about career opportunities in seniors care in Alberta. Organizers were anticipating about half that number of applicants.
"We need both short and long-term solutions to this crisis," says Fontaine. "Our recommendation ensures that all safety and quality issues are dealt with while at the same time providing operators time to work with government and the health authorities on developing longer-term solutions. Seniors deserve to know the care will be there when they need it, regardless of where they live in our province. Unfortunately, that is at risk in the B.C. Interior."
-30-
MEDIA CONTACT:
Rumana D'Souza
(778) 681-4859
rumana@bccare.ca
Background: Vacant Care Aide FTE Positions by Region
| | |
| --- | --- |
| Kootenay | 40.4 |
| Cariboo | 64.0 |
| Kamloops & Williams Lake | 39.0* |
| Salmon Arm | 34.0 |
| Okanagan | 139.0 |
| Greater Kelowna | 69.9 |
| Penticton & Summerland & Osoyoos | 29.6 |
| Vernon & Lumby | 39.5 |
| TOTAL | 252.4 |
 *total updated 2:20pm, May 13
Quotes from Long-Term Care Providers
"Vantage Living is very concerned about the growing staff shortages which are spanning the interior. Immediate action is needed to address this issue and ensure that providers can continue to appropriately support seniors."
Melanie Reinhardt, President, Vantage Living
"The performance between a health care assistant educated in Alberta and one educated here in B.C. is commensurate. To arbitrarily maintain barriers to recruitment, as the sector faces shortages like we have never experienced before, does not serve the best interests of seniors."
Lynda Foley, RN, Chief Nursing Officer & Vice President Quality, Park Place Seniors Living
"Our organization operates in both Alberta and B.C. and I feel confident in saying that there is no difference between the quality of our staff. The roadblocks which qualified health care assistants face in coming to B.C. are exacerbating an already dangerous recruitment crisis."
Hendrik Van Ryk, COO/VP of Human Resources, H&H Total Care Services
"Our Mission is to provide safe quality care to our residents as well as provide a safe working environment for our staff. We need to mitigate the risks of having our staff work short. In order to do that, we need to be able to recruit qualified staff to serve our residents. Currently that is not possible without a tremendous amount of testing and expense to these candidates, which is not necessary in my opinion. We would welcome and support the removal of barriers to allow us to recruit staff from all available avenues, including qualified staff from Alberta."
Julius van Wyk, President and CEO, The Good Samaritan Society
About BC Care Providers Association
Established in 1977, the BC Care Providers Association (BCCPA) is the leading voice for B.C.'s continuing care sector. Our growing membership base includes over 340 long-term care, assisted living, home care, home support, and commercial members from across British Columbia.