This National Volunteer Week (April 16 – 22), BC Care Providers Association (BCCPA) and EngAge BC would like to take the opportunity to recognize the important role of volunteers in our seniors living and care communities across the province.
Volunteers play a unique role in fostering a supportive and enriching environment for seniors, whether in long-term care, assisted living or independent living.
Below are profiles on fantastic volunteers from BCCPA and EngAge BC member community, Elim Village.
Pius Valenton
Described as a kind, patient, helpful and friendly young man, Pius Valenton has made a huge impression on residents, as well as staff and fellow volunteers, since only starting in September 2022. Through his past experience in another care home, Pius is a pivotal volunteer and leader in Elim's Heart for Music program. He has single handedly re-introduced the individualized music program to Full Care residents. Through making personalized playlists for each resident he spends time with and playing them on regular volunteer visits, Pius has created wonderful positive connections with many seniors. He has also mentored other volunteers and trains them to play the music for residents.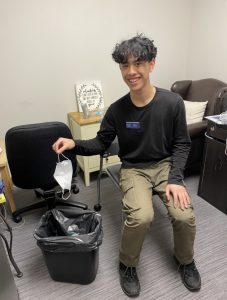 Pius created a report on the results that he sees with the Heart for Music Program at Elim.
"It has brought joy, comfort and memories to the residents of Elim and has been well received by the community. The physical and emotional reactions of the residents are clear indicators of the positive impact of the program."
Pius has said "[…] that volunteering has numerous benefits, including improved communication and planning skills, the opportunity to learn wisdom from the elderly residents and a sense of fulfilment and purpose. The experience gained through volunteering can have a lasting impact on personal growth and development."
Pius is an individual who continuously strives to make a positive difference in his community and the world around him.
Tony Kim
Since March 2022, Tony Kim has been volunteering with Elim Village to not only give back to his community, but because he was missing his two grandmothers in Korea.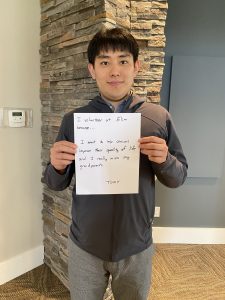 Tony spends two evenings every week in Elim's Assisted Living building, the Emerald, where he volunteers with the Monday Evening social program and Jeopardy. Emerald residents love spending time with Tony and always ask where he will be in next. Tony has also helped with special events, the walking club and driving their golf cart to help residents get to their monthly concerts.
When interacting with other younger volunteers, Tony takes on a leadership role and gently guides them with empathy and inclusivity. All in all, he is reliable, responsible and goes out of his way to help others.
"Tony has a smile that is contagious and truly brightens up any environment he is in," says Suzanne Tempel Volunteer Resources and Life Enrichment Manager. "We are so fortunate to have Tony as an integral part of our volunteer team."
Tony is committed to helping others in his everyday life, which radiates in his time volunteering at Elim. He makes a difference in the lives of many of Elim residents and staff.
How will you be celebrating National Volunteer Week? Use the hashtag #NVW2023 and share any stories you have of your exceptional volunteers on Twitter, LinkedIn or Facebook. Be sure to tag us at @BCCareProviders and @EngAge_BC!