As National Volunteer Week comes to a close, BC Care Providers Association (BCCPA) and EngAge BC extends gratitude to all volunteers across the sector who commit their time to enrich the lives of seniors. We thank them for their role in connecting with and supporting seniors whether in long-term care, independent living or in assisted living.
Read below for the final profiles on incredible volunteers from BCCPA and EngAge BC member community, Eden Gardens.
Kath Vandoorn
After her mother moved to Nanaimo Travellers Lodge in 2017, and the home moved to Eden Gardens in 2018, Kath Vandoorn started to help with some programs at Eden Gardens. Although not an "official" volunteer, she started to get familiar with other elders and staff. Being such a kind person, she started to help the recreation team to deliver momenta of joy to all the elders. She was visiting with different groups of elders, walking with them, spending time with them and encouraging elders to participate in the different programs and having fun along with them too.
Soon enough, Kath joined the volunteer team. By that time, she was familiarizing herself with the Snoezelen/Sensory Therapy program and she became the volunteer leader for it. Since 2018, she comes every week to spend time with the elders. This program helps elders who are unable to participate in many activities, and are typically in a later stage of dementia and unable to communicate or express themselves easily.
The elders benefit from this enchanting time of sensory stimulation that can be used to calm and reduce agitation through the use of gentle light, soothing sound, relaxing smells and textures, as well as providing spiritual care. Stimulating the senses in this way has shown to improve restlessness, attention span and impulsiveness. As described by Kath, this is a therapy for the soul; every week, she says, she has had the most beautiful times with the residents. She also continues assisting in other activities along with her husband Jack. Everyone at Eden Gardens are so fortunate to have such empathetic and compassionate people around.
Betty Barthel
Eden Gardens has a recycled glass garden art project that began in 2015 to raise funds for their Art, Music, and Horticultural Therapy programs. Betty Barthel's mother-in-law was a resident at that time, and Betty was always contributing beautiful hand-crafted products to the craft sales.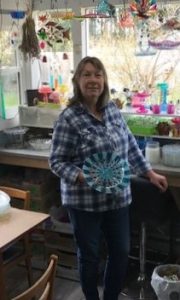 After moving 130 residents living with dementia into Eden Gardens, Betty was contacted and asked if she could take over the glass garden art project. Betty started designing not only recycled glass flowers, she expanded the project to include smaller flowers, mushrooms, birdbaths, glass fish, and the very popular ant moats.
Betty enjoys painting the glassware with her other volunteers in her workshop, a "SHE Shed" her husband created to try and keep the glass from taking over their dining room. Betty shops for the glass pieces all up the island and beyond, buying special pieces that she knows can be turned into beautiful garden art. Many donations of glass are also received on a regular basis.
"Her creativity is remarkable, as she continues to amaze us with her additions to the program," says Carolina Ponsford, Programs Manager at Eden Gardens. "Eden Gardens has had the privilege of participating in the distinguished Nanoose Bay Art in the Garden show, where the pieces are virtually sold out every time! Betty also supplies her creations to The Backyard Bird Store on Metral Drive, who have been selling them on behalf of Eden Gardens Therapy Programs for several years as well."
In the 5 years Betty has been volunteering as the coordinator of the glass garden project, she has raised over $30,000 for the Eden Gardens' Art, Music, and Horticultural programs.
Eric Martin 
Initially a family member at Nanaimo Travellers Lodge Society o/a Eden Gardens, when his wife moved in shortly after they opened their new care home in 2018, Eric Martin has described as one of Eden Garden's best volunteer assets. Eden Garden residents are all living with dementia, and with that come some exceptional challenges.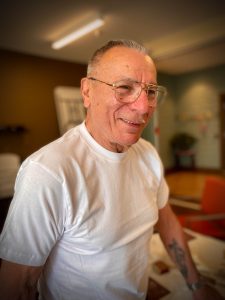 Eric began by supporting his wife and her needs, and has grown to support other families and many elders, providing years of dedicated service. From early on, he has been admired for his sensitive, respectful, caring approach with other family members, elders, and staff alike.
Eric has a knack for bringing out the best in each and every elder he works with, while providing special moments for not only the elders, but also the families and staff. Though his wife has passed some time ago, his dedication to her was admired by all, and he has continued to help around the care home as well as working with the elders.
He has organized for his car club to come by with their classic cars, and allow the elders to sit in them and learn about the cars. He provides a monthly wood working project for a men's group, where along with another volunteer, Jack, they work with several elders to create beautiful wooden keepsakes for their families.
Eric is an example to all that by possessing a positive attitude and finding the best in others, he is able to bring even the most apprehensive elders some wonderful experiences that are a joy to behold. He consistently models a patient, creative and caring approach. In challenging situations, he maintains calm while delivering uncompromising attention to our elders.
"Consistency and familiarity of volunteers help to improve the quality of life for our elders and decreases stress for staff," says Carolina Ponsford, Programs Manager at Eden Gardens. "From the beginning, Eric has been someone on whom our elders and care team can depend. Nothing we may ask of him is too much trouble. His presence in the neighborhoods provides a gentle reassurance for all that it will be a good day, no matter what may come up."
How will you be celebrating National Volunteer Week? Use the hashtag #NVW2023 and share any stories you have of your exceptional volunteers on Twitter, LinkedIn or Facebook. Be sure to tag us at @BCCareProviders and @EngAge_BC!