Across Canada, April 16th to 22nd is National Volunteer Week, an opportunity to recognize the time, commitment and passion of volunteers and their role in strengthening our communities.
With this year's theme of #WeavingUsTogether, we recognize the efforts of volunteers in enriching the lives of seniors within long-term care, assisted living and independent living residencies through their dedication, support and kindness.
Throughout National Volunteer Week, BC Care Providers Association and EngAge BC will spotlight a few extraordinary volunteers within our member operator communities.
Read about two volunteers from SHOAL Assisted Living (Beacon Community Services) and Langley Lodge below.
Sandi Greenard, SHOAL Assisted Living (Beacon Community Services)
Sandi has been a volunteer at SHOAL Assisted Living for six years and joined for five years prior with her church. During COVID, Sandi was an Essential Volunteer. In a time of uncertainty and worry, she continued to come and do one-on-one visits with the residents.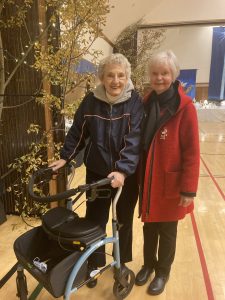 Both the SHOAL team and residents are always confident that Sandi will be there for a handful of activities –  whether that be for a craft, games, birthday party, bingo or dominoes. Not only is she reliable, but she brings so much joy and fun to each of these activities. She goes above and beyond to make every resident feel special.
A few words SHOAL residents have used to describe Sandi are:
"Charismatic, smart, helpful, dedicated, always cheerful, kind, beyond compare, and she always makes us feel loved and special."
"We are SO thankful for Sandi and all that she does for SHOAL Assisted Living!"
Robert Lanegraff, Langley Lodge
For over 10 years, Robert has been volunteering with Langley Lodge. Like many volunteers, Robert's volunteering was suspended in March of 2020 when the Pandemic hit. Otherwise, he would certainly have a solid 12 years of dedicated volunteer service behind him.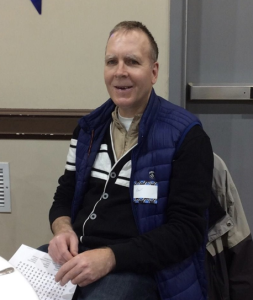 Robert was happy to resume his volunteering when Langley Lodge re-opened their doors to volunteers and to date Robert has provided almost 1200 hours of volunteer service. His favourite activities to volunteer in are bingo with the recreation team and Book Sales, supporting their Auxiliary members.
"Those who have the pleasure of meeting Robert can't say enough good things about him, they speak of his kind and gentle manner, as well as his positive and enthusiastic attitude. Robert absolutely loves bringing happiness and smiles to others," says Jude Henders, Volunteer Services and Community Engagement Coordinator.
How will you be celebrating National Volunteer Week? Use the hashtag #NVW2023 and share any stories you have of your exceptional volunteers on Twitter, LinkedIn or Facebook. Be sure to tag us at @BCCareProviders and @EngAge_BC!