The BC Care Provider of the Year Award celebrates individuals who deliver exceptional care and support to seniors. BC Care Providers Association (BCCPA) is pleased to announce Cathy Naismith of Beacon Community Association as this year's winner of the award in the Long-Term Care category.
For the past 8 years, Cathy Naismith has been working as a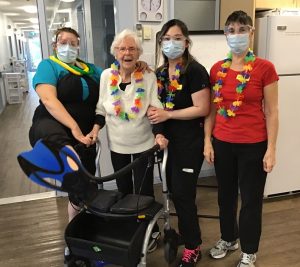 Health Care Aid at Beacon Community Association's Licensed Dementia Care Homes. Both residents and staff recognize Cathy as a hardworking and fun leader who constantly goes above and beyond.
Cathy is commended for her authenticity, which fosters a safe and trusting environment for residents and staff. She is a not only an HCA to residents, but more importantly a friend to them. Her reliability, hardworking ethos, honesty and natural ease with people shine through every day. In her care, residents are treated with utmost dignity and respect.
"She is an absolute treasure and wonderful role model. She has dedicated herself to BWH with reliable and caring service for many years and she is a wonderful mentor and teacher to those who come behind her." – From Tamara, LPN Lead
The 9th Annual BC Care Awards took place on February 28th, 2023 at the Fairmont Empress in Victoria, B.C. Click here to read our wrap-up post.
Thank you to Surge Learning for sponsoring the BC Care Provider of the Year in Long-Term Care Award.