BC Care Providers Association (BCCPA) is pleased to announce Cathy Baysic as the winner of the 2023 BC Care Provider of the Year Award in Assisted Living.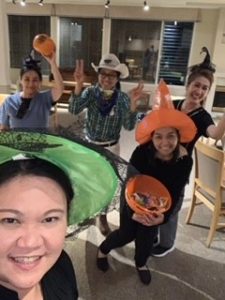 Cathy is a Recreation Coordinator at Courtyard Terrace Seniors Community, Park Place.
Described as resident-centered, residents constantly describe how committed Cathy is to her service. Cathy strives to ensure that everyone has the chance to participate in activities at Courtyard, regardless of their physical ability level.
"Cathy makes sure that residents with mobility issues can still come on walks even over rough and steep sidewalk terrain – maneuvering and lifting wheelchairs to get over obstacles instead of turning back and giving up."
The reciprocal nature of Cathy and her residents can be attributed to her contagious smile, laugh and positive attitude. The residents are fueled by her positive attitude, and Cathy is inspired by the joy they give back to her.
"Beyond all these activities, the one thing we have all come to count on and appreciate is Cathy's open loving heart. She always tells us, 'I do it all to make you happy. That is the most important thing to me' and we believe her," recalls one resident.
Notably, Cathy runs an open forum at her recreation meetings where everyone has a voice, and where family members are welcome to attend and contribute.
"She supports wholeheartedly the Residents Council and all that we try to do," says a council member.
Most of all, Cathy helps residents to remain as independent as possible. She works with them to keep doing activities that they may have thought were not possible anymore and goes the extra mile to get spirits up, especially through the pandemic.
BCCPA commends Cathy for her commitment to inclusion and independence for all residents.
The 9th Annual BC Care Awards took place on February 28th, 2023 at the Fairmont Empress in Victoria, B.C. Click here to read our wrap-up post.
Thank you to CareRX for sponsoring the BC Care Provider of the Year in Assisted Living Award.