BC Care Providers Association is pleased to announce another four nominees for BC Care Provider of the Year in Long-Term Care. These are individuals who exhibit exemplary commitment and passion in their work in seniors care.
Award recipients will have the opportunity to travel to Victoria, where they will be presented their awards on February 28, 2023. Along with two nights of accommodation at the Fairmont Empress, winners will be awarded free Occupational Health and Safety Refresher training for their organization, thanks to our sponsor SafeCare BC.
Daphnie Sisson – Langley Care Society
Since completing the Recreation Therapy Assistant program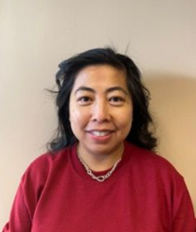 in 2019, Daphnie Sisson has been working as a Recreation Therapy Assistant at several locations before settling full-time at Langley Lodge in 2019. During her time at Langley Lodge, she has developed many strong and loving relationships with the residents and their family members, as well as colleagues and volunteers. Her willingness to serve all those she interacts with daily is evident in the positive relationships she has built throughout the years. Daphnie truly makes a person feel included, heard and part of the experiences and activities she creates for our residents.
Daphnie exemplifies passion, compassion and commitment, qualities that are the cornerstones of the Therapeutic Recreation profession. She is always researching and exploring new and innovative approaches to meaningful recreation programs. The pandemic has seen a reduction in the usual programs safely offered to residents. On a recent Community Outing, Daphnie organized a "drive thru" at a local dairy farm. Since many residents are from rural settings, it was the perfect "social distancing" activity. She has a driving sense of commitment, always learning and trying new interventions in support of the residents she serves. She provides meaningful interventions for each resident, every day.
From her nominator, Lisa Samms Maxwell (Director of Care):
"Daphnie is always eager to help, and make things better for everyone. She possesses strong leadership skills and is known to be a champion of the Recreation Department. She is often found supporting her workmates with an 'how can I help you approach.'"
From a team member:
"Daphnie influences how we all do our work in a better and more meaningful way."
David Duco – Rest Haven Lodge
As a Registered Nurse at Broadmead Care, Rest Haven Lodge, David Duco connects with residents in meaningful ways. David gets to know residents personally, discovers what they like and enjoy and will use this in conversations with residents. David will use personal information in daily activities, like singalongs with residents and choosing lyrics that are meaningful to them. His approach is always one of respect and kindness to our residents, their family members and to his colleagues.
Dave goes above and beyond his duties in supporting both residents and other team members. When there is a staffing challenge, Dave always takes quick initiative to help and works overtime to ensure the highest level of care for residents and to support teammates in covering shifts. Beyond his duties, he often supports with direct personal care and meal assistance. David models compassion and empathy and is a strong resource to other members of the team at Rest Haven Lodge.
From his nominator, Gurdeep Nijjer (Home Manager):
"Residents' families comment on Dave's friendly and engaging manner, and they state that he has compassion and empathy. Rest Haven Lodge has often received compliments from families who comment that Dave is often engaging and collaborative with them on difficult decisions." 
Dwayne Potenteau – Broadmead Care, Nigel House
Dwayne Potenteau is a Registered Nurse at Broadmead Care, Nigel House. Dwayne's professionalism and calm approach with residents makes him a joy to work with for both residents and staff. He is very supportive of his team and will make himself available to them. He is always looking for ways he can support his team by providing on the spot training/education as opportunities arise. Described as a kind, compassionate and knowledgeable nurse, Dwayne is very supportive of others and leads through example.
He is not afraid of new or challenging situations and fosters a workplace environment with his positive attitude. Regardless of how busy his work gets, Dwayne always completes his tasks with a smile and ensures that staff feel supported in times of challenge.
"Dwayne challenges the status quo by using evidence based practice/approach. A resident was trying to elope, Dwayne knelt down beside him and talked to him. He took the time to listen and was able to de escalate the situation." – LA, RN
"Dwayne is extremely helpful and always fun to work along site with. He always have a positive outlook on situations. All staff enjoy working with him." – AK HCW
"Dwayne is an excellent nurse. He always keeps himself busy and takes care of the clinical and wellness of the residents. He's always willing to help if anyone asks, not only with his nursing duties, but HCW's duties as well. He has good medical knowledge and is willing to share with staff. He always talks in a professional manner and is never in stress even when his workload is heavy." – EL, HCW
Esther Vandenberg – Brookside Lodge
Esther Vandenberg, a Care Aide at Brookside Lodge, is the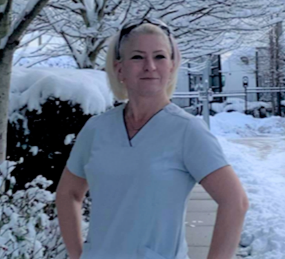 essence of passion and person-centered care. She loves residents like family and has established amazing therapeutic relationships with them as well as their families. Esther is kind and gives her heart and soul each day she works, and residents look forward to her greeting each shift. Often, Esther goes above and beyond to ensure that resident's needs are met. This includes, but is not limited to, hair styling and cutting, helping a resident decorate their room, sitting with and enjoying quiet moments with residents and ensuring that her neighbourhood is inclusive and supportive to all. Esther is motivated and genuinely enjoys coming to work and this is evident in her work and daily duties.
Although she has established job duties, Esther steps outside of her scope to assist and support her team members. Whether it's assisting with cooking and meal delivery, helping to manage special projects, volunteering her time to go on resident outings and supporting residents in their leisure and overall well-being. Esther is motivated in her ambitions to provide excellent care, advocate for her residents to ensure their needs are met whether it's health-related or in regard to their overall quality of life and well-being. Esther has gone as far as shopping for residents, bringing items to decorate and create a home-like environment and has made her neighbourhood one that is comfortable. Esther also comes to the leadership team with further ideas to improve the life of her residents and their home space.
From her nominator, Diyya Daniel (Executive Director):
"Whether it's a hug, a phone call or a gentle conversation- Esther is always there to support. Esther has assisted in ensuring residents can openly communicate with their loved ones- near and far and excelled at this throughout the pandemic."
"One of our younger residents was unable to see his dad who lived out of the country. Esther was a main support in ensuring he was able to see and virtually visit him. Both the resident and his family were so grateful for this. This came at a time where her support was most appreciated as it allowed for our team to continue to support other residents in efforts to see and contact their family members."
"Esther has continued to provide support for these families through the palliative, end of life and after life process. Families have expressed love for her care and support, thanked her for her caring soul and have expressed gratitude for her love and her light. Esther's love and care extends to her teammates. Her peers are grateful to her as she takes the time to spend time with residents and provides a "light" atmosphere with her sense of humor, impeccable storytelling and willingness to step outside of the box. She is truly valued by everyone, and we are so grateful to have her."
BC Care Provider of the Year | Long-Term Care Award is sponsored by: