Continuing our profiling of nominees for the BC Care Provider of the Year, BC Care Providers Association (BCCPA) presents four additional nominees in Long-Term Care. BCCPA will announce winners in January 2023 and will present awards at the BC Care Awards in Victoria, B.C. on February 28, 2023.
Along with two nights of accommodation at the Fairmont Empress, winners will be awarded free Occupational Health and Safety Refresher training for their organization, thanks to our sponsor SafeCare BC.
Frencille Tabaloc – Kaigo Retirement Community
Frencille Tabaloc started as a Care Aide at Kaigo's Fraserview site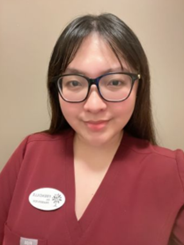 before becoming a Registered Nurse. In her role, she has carried her patient, compassionate, and caring nature into her position as a registered nurse. She dedicates every shift not only to her resident's safety and care, but to the safety and care of her teammates.
Frencille is constantly praised for her abilities to remain calm in high stress situations, which really contributes to her abilities to critically think, make difficult decisions, and lead her team. She has been able to help support families who have been struggling with the progression of their loved one's illness by going above and beyond to ensure that their experience could be a little bit easier. Her calm demeaner, affectionate smile, and gentle approach helps to soothe even the most anxious and scared individuals.
"Does not hesitate to help you, which is very helpful especially in emergency situations when you have to act and move quickly. More than once when I was sending someone to the hospital, she would help me out by printing off the required documents and helping me with the paperwork." – Licensed Practical Nurse
"Really effective and professional communication. She always keeps the entire multidisciplinary team aware of the necessary information so that everyone is on the same page, can brainstorm and make suggestions if needed, and that the resident's care and safety are the priority" – Administrative Team Member
Gina Gonesto – Sienna Senior Living
As a Recreation Therapy Assistant, Gina Gonesto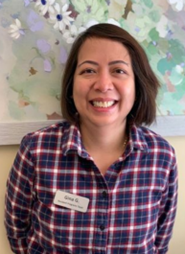 demonstrates exceptional resident care by always lending a helping hand regardless of task. Gina is able to bring a holistic scope of practice and is aware of residents needs from care to leisure and wellbeing. She is often described as the sole person who has the ability to persuade a resident to participate, whether it's to go for or a walk or to undergo nail care. Gina builds such compassionate rapport with the residents that she works with that she is able to assist with a variety of needs with her team even if it is not her "normal" duty. Gina is an excellent example of being a team player.
Gina's personable relationship with residents shows the effort she puts to ensure that each resident receives the best care possible. She is extremely knowledgeable for those she works with and is open to all tasks and jobs.
"Gina always takes time out of her day to discuss residents needs, collaborates with her team members, and takes and implements feedback exceptionally. She goes that extra mile for individualized care, especially for those at risk." – Lauren Kosloski
"My interactions with all the family members within in the Coho neighborhood always include positive remarks regarding the Recreation programs being offered by Gina. When I visit Coho neighborhood where Gina works, I always see the most engagement of residents in her groups. I can always trust that any request I have for Gina they get completed in a very timely and efficient manner. All my interactions with Gina have been extremely positive." – Connor Hall, Social Worker
Harvinder Manak – Veterans Memorial Lodge, Broadmead Care
Through his dedication, Harvinder Manak has pride in his work as a Health Care Worker at Veterans Memorial Lodge, Broadmead Care. The comfort and wellbeing of the residents in his care is his primary goal each day, and he shares his passion with his entire team. Harvi takes the time to get to know the resident very well in order to provide care that is individualized. Not only does he provide superb care in the moment, but he can also anticipate residents' needs by observing and knowing their mannerisms and non-verbal cues.
As a team player, Harvi often acts as a resource for his peers and has a natural ability to teach. He pays attention at report and listens to how all of the resident on the lodge are doing so that he may support his co-workers that may be dealing with more complex situations on that day. Harvi is receptive to taking on different support roles in the organization.
"Harvi coached and supported his co-worker to gain the skills and confidence needed to work independently in a safe manner. You can always count on Harvi to step up and offer assistance when needed." – His nominator, Kristi Osguthorpe (Care Manager)
"Harvi is an exceptional care aid and he is a champion of safety. Not only does he lead by example, but he has stepped up this year to take on a new role as a peer educator. Harvi is also an experienced first aider. This combination of skills and expertise make Harvi a leader. He is an amazing resource for our current and new staff. I feel exceptionally lucky to have Harvi as part of my Safe Interactions and First Aid team." – Dana Morch, the Employee Wellness Health and Safety Advisor
Jacqueline Asuncion – Trillium Communities (Woodgrove Manor)
Jacqueline Asuncion is the kind of nurse that leads by example.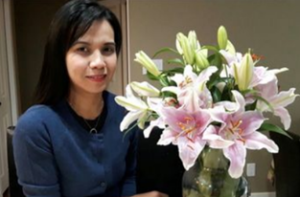 Since 2017, she has shown confidence, dedication, and compassion for her residents and team at Woodgrove Manor. Her whole approach to care is teamwork. Jacqueline is very well respected by her team and has been complimented by many – care aides, nurses, management, families and residents for her dedication and kind, gentle, calm approach. She volunteers for help without being asked, often observed assisting residents with meals and cares.
Jacqueline's time management and prioritization skills are impeccable. Even in times of staff shortages, she always know how to keep that positive work environment for her team. Through her admirable confidence and calmness, she reacts well under pressure and shows courage to take action.
From her team:
"Thank you for all the extra help on nights! And for being such an amazing nurse/co-worker! We appreciate all that you do."
"Thank you for always being positive and willing to teach us."
"Thank you for being flexible and available during these difficult times."
"Thank you for being a great team leader and for always being calm and part of solutions."
BC Care Provider of the Year | Long Term Care Award is sponsored by: