6th annual provincial proclamation recognizes workforce of over 50,000
March 1, 2022 (Victoria, B.C.): In recognition of the thousands of workers who take care of B.C. seniors every day, the Province of British Columbia has proclaimed March 1st, 2022 as BC Seniors Care Providers Day. A copy of the Proclamation signed by B.C. Lieutenant Governor Hon. Janet Austin and Attorney General Hon. David Eby is available here.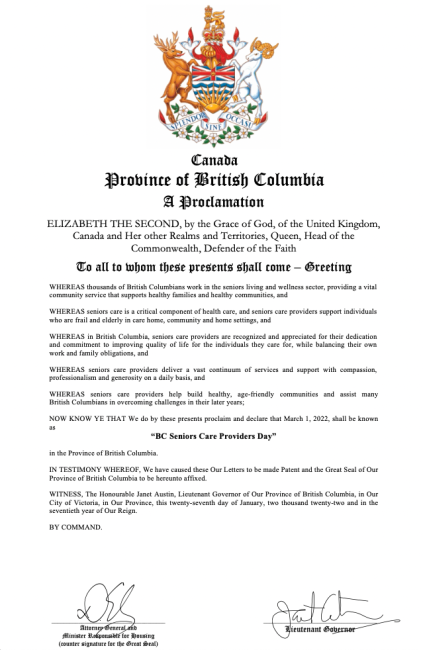 "We are once again grateful to the Province of B.C. for this proclamation to mark today as B.C. Seniors Care Providers Day," says Terry Lake, CEO of BC Care Providers & EngAge BC. "Everyone working to support the health and well-being of seniors across the province deserves to be honoured and celebrated, whether it is on the front-line with residents or in someone's home, or those who https://bccare.ca/wp-content/uploads/2022/08/medcare-img22.jpgister care homes, or assisted living residences, or those who provide meals and do housekeeping.
"The province's proclamation is a fitting way to recognize their commitment to providing the best possible care for seniors."
The declaration coincides this week with the 8th Annual BC Care Awards, which took place in Victoria yesterday evening — BCCPA's first public in-person event since the beginning of March 2020.
Minister of Health, the Honourable Adrian Dix presented the awards for Care Provider of the Year (home care, assisted living and long-term care), Safety Champion, for "Long-Service Excellence," and the new category of Family Champion of the Year in front of a supportive audience of local leaders from the continuing care and retirement living sector and several elected officials.
-30-
MEDIA CONTACT
Michelle Ho
Digital Media and Communications Specialist
(604) 736.4233 ext. 224
michelle@bccare.ca
About BC Care Providers Association
Established in 1977, BC Care Providers Association (BCCPA) is the leading voice for B.C.'s continuing care sector. Our growing membership base includes over 425 long-term care, assisted living, and commercial members from across British Columbia. Through its operating arm EngAge BC the organization represents independent living and home health service providers.