BC Care Providers Association congratulates Courtney Merrells as this year's winner of the Care Provider of the Year Award in Assisted Living!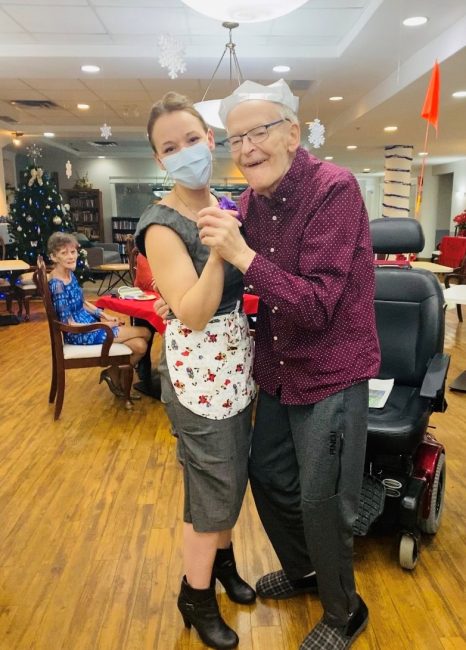 Courtney Merrells is the General Manager of Parkside Community based in the Interior Health region.
Since the beginning of the pandemic, Courtney has displayed resilience through her tremendous effort in supporting her team through adversity.
Despite facing many challenges in the past two years, including staff shortages, evacuations due to the summer wildfires, and a COVID outbreak at the care home. Courtney continuously stepped up to rally her team and community to keep her residents safe.
"I am very honoured to receive this award, for what it represents and the fact there is so many deserving health care workers in our province," says Merrells. "Senior care is my passion, this accomplishment is not something I did alone and I would like to thank my colleagues for all their hard work, support and dedication."
BCCPA appreciates Courtney for her dedication over the past two years. Our Events and Recognition Committee was especially grateful for her determination in keeping seniors safe and comforted while assisting evacuees from other assisted living operators and subsequently facing an evacuation preceding a COVID-19 outbreak at Parkside Community.
In addition to Courtney's strong commitment to provide care for seniors, she is also thoughtful and gracious towards her community. During last autumn, Courtney fundraised $1000 from Parkside and the community for the Chase Volunteer Fire Department to express gratitude for the help they received during wildfire season.
The 8th Annual BC Care Awards ceremony takes place in Victoria, BC on February 28th, barring any public health restrictions interfering.
Tribute Video: Courtney Merrells
***
The BC Care Provider of the Year awards are proudly sponsored by CareRX


CareRx is Canada's leading provider of specialty pharmacy services to seniors. They serve approximately 92,000 residents in over 1,500 seniors' and other communities (long-term care homes, retirement homes, assisted living facilities, and group homes).
At the core of their business is the care they have for the individuals and teams they serve and work with. They put care into every aspect of what they do.