New report shows that B.C. already falling behind while "baby boom" drives up demand
Burnaby, B.C. (May 22, 2019): A landmark report released today by BC Care Providers Association (BCCPA) projects the B.C. healthcare system will struggle to meet the demand for long-term care due to the demographic bulge created by the baby boom generation and a lack of investment. The report quantifies for the first time the surge in demand that will result from the province's aging demographic, using data extrapolated from the Ministry of Health's own growth forecast for B.C.'s frail elderly population.
With boomers now reaching retirement age, demand for long-term care in B.C. is expected to spike in the next two decades, with a projected need of up to 45,000 net new long-term care beds by 2041/42.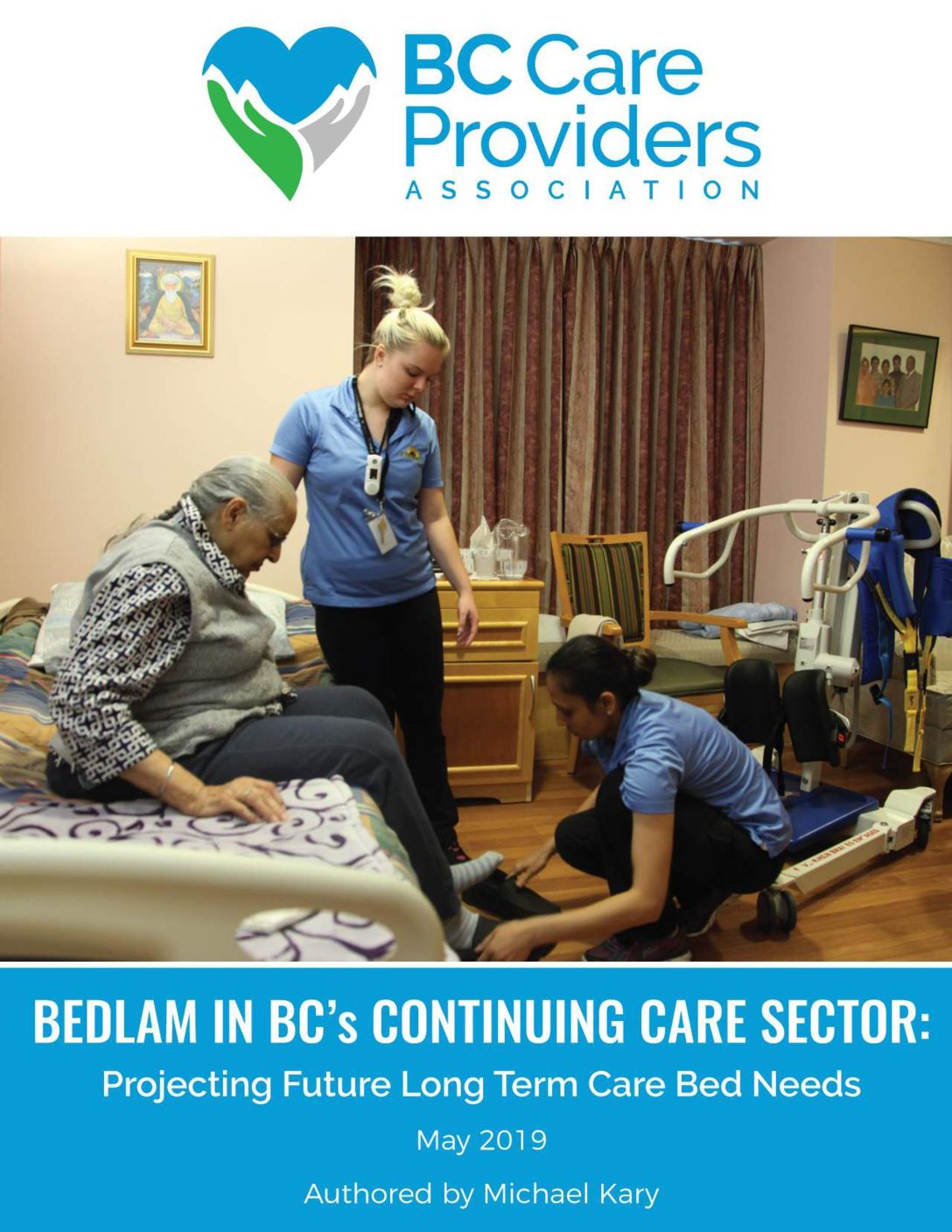 BCCPA's report, titled Bedlam in BC's Continuing Care Sector: Projecting Future Long Term Care Bed Needs, makes 12 recommendations that include exploring new care models, developing regional initiatives, and improving and expanding other supports such as home care and assisted living.
"Regardless of what methodology you use to project future demand for long-term care, the consequences for our health system and provincial budget are frankly daunting," says BCCPA CEO Daniel Fontaine. "Surprisingly, B.C. has only had one successful bid to develop new publicly-funded care beds in the whole province in the past two years.
"Our analysis of data provided by the Conference Board of Canada shows that B.C. is already short by roughly 3,000 long-term care beds. Now factor in a requirement for another 1,000 to 2,000 additional spaces per year until 2035, and you can see the scale of the challenge."
While adding new long-term care beds is a major part of the solution, the Bedlam report looks at alternative approaches, such as improving wait times through better reporting and tracking, investing in new builds and renovating existing long-term care and assisted living spaces, supporting strategies for health human resources, and leveraging federal funding to upgrade aging infrastructure.
"The gap between available beds and those who need them will continue to widen unless there are substantial investments in the number of long-term care spaces," says Fontaine. "We have had decades to plan for this, so why are we still just catching up?"
As of March 2018, there were approximately 1,400 people waiting for admission into long-term care — a 7 percent increase over the previous year. About 75 percent of people waiting for admission into long-term care were people living in the community with the remainder waiting in hospital.[i]
"We know that partnerships with non-government providers are a critical part of meeting this growing demand," adds Fontaine. "This report should provide an impetus for all the key players in government and the private sector to meet and hammer out a plan."
A full copy of the report is available at www.bccare.ca.
-30-
MEDIA CONTACT:
Rumana D'Souza
(778) 681-4859
rumana@bccare.ca
Key facts outlined in the report
Between 2013 to 2017 the number of long-term care beds grew by approximately 900. To keep pace with the proportion of the population over 75, the number of additional beds should have grown by an additional 550 beds (1,450 in total).
In 2017/18, the average length of stay in long term care decreased 9 percent when compared to the previous year.
According to data provided by the Conference Board of Canada, over 30,000 new long-term beds must be added in B.C. over the next twenty years. To service these new care beds, B.C. will need to hire 19,000 new care providers, including 13,000 health care aides, 4,000 nurses and 2,000 allied health professionals.
Summary of recommendations
Current access issues (3 recommendations): Wait list target of 65 percent that are able to access within 30 days; website to publicly report data on wait times; and 5 percent alternate level of care (ALC) target;
Future strategy for meeting long term care demand (4 recommendations):  Provincial strategy for at least 30,000 long-term care (LTC) bed equivalents over next twenty years, including between 20,000 to 25,000 actual new beds; BC Continuing Care Living Initiative to support providers build new beds and assisted living spaces; Provincial HHR plan to meet new bed requirements; and consistent approach to track and project future LTC bed requirements province-wide.
Addressing B.C.'s long-term care bed needs through alternative approaches (1 recommendation): $50 million per year over next four years to support new models or approaches of care (i.e. Continuing Care Hubs to improve access and where appropriate mitigate demand for LTC);
Renovating existing care homes to meet LTC demand (1 recommendation): Establish a new $200 million Continuing Care Infrastructure Fund (CCIF) over four years;[ii] and
Federal government action (3 recommendations): 42,000 new LTC beds by 2023; a Pan-Canadian HHR strategy; and invest in renovation and retrofitting of 400 LTC homes to meet current design standards and needs of today's seniors, especially persons living with dementia, by 2023.
About BC Care Providers Association
Established in 1977, the BC Care Providers Association (BCCPA) is the leading voice for B.C.'s continuing care sector. Our growing membership base includes over 340 long-term care, assisted living, home care, home support, and commercial members from across British Columbia.
[i] BC Office of the Seniors Advocate. Monitoring Seniors Services, 2018. January 2019. Accessed at: http://www.seniorsadvocatebc.ca/app/uploads/sites/4/2019/01/MonitoringReport2018.pdf
[ii] The proposed Continuing Care Infrastructure Fund (CCIF) would include four key areas including: 1) support the immediate renewal and replacement of older long term care and assisted living homes; support investments in smaller infrastructure projects such as sprinkler and ceiling lift installations, automated medication management, online training technology, security and data collection systems; funding to continue or expand the existing Seniors Safety and Quality Improvement Program; and invest in enhancements for improving dementia-friendly environments within existing homes to create more dementia friendly designs.