Calling students to apply for BCCPA's 2019 bursary program
As part of its 40th anniversary celebrations, BC Care Providers Association announced bursaries for up to 40 students currently enrolled in full-time post-secondary programs to attend the largest continuing care sector conference held in Western Canada. BCCPA is now accepting applications for 2019.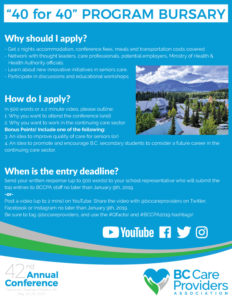 Six students attended the "Shift Happens!" Annual Conference in Whistler last year. They were given the opportunity to hear from high-profile speakers and experts, network with industry leaders, and gain insight into best practices and new models of care and technology in the sector. They explored how a culture of innovation and person-centered care can improve quality of services, access to services, and health outcomes for seniors.
Students enrolled in programs such as gerontology, nursing, kinesiology, recreational leadership, health sciences, health administration, health leadership & policy, engineering, occupational health and safety, or health information management are encouraged to apply for the bursary.
Successful applicants will receive:
An all-expenses paid experience at the 2019 Annual Conference from May 26th-28th, which includes meals, two-nights accommodation at the Fairmont Chateau Whistler, and transportation.
An opportunity to network with thought leaders, care professionals, potential employers, and officials from the Ministry of Health and health authorities.
An opportunity to learn more about the continuing care sector.
"I'm looking forward to reviewing the bursary entries," says BCCPA Director of Programs Snezana Ristovski. "We were very impressed by the passion and enthusiasm of the 2018 bursary recipients. We hope this year's recipients will seize this exciting opportunity to network with leaders in seniors care, and learn about the latest initiatives and innovations in the sector."
How to apply for the bursary program
In 500 words or a 2 minute video, please outline:
1. Why you want to attend the conference (and)
2. Why you want to work in the continuing care sector (and)
3. An idea to strength quality of care for seniors
Bonus Points! Include one of the following:
4. A safety innovation idea for the seniors care sector (or)
5. An idea to promote and encourage B.C. secondary students to consider a future career in the continuing care sector.
Written responses should be sent to your school representative who will submit the top entries to BCCPA staff no later than January 9th, 2019.
Videos should be uploaded on YouTube, and shared with @bccareproviders on Twitter, Facebook or Instagram no later than January 9th, 2019.
Be sure to tag @bccareproviders, and use #theQfactor and #BCCPA2019 hashtags.
Visit our Students in Conference page for more information. For inquiries, please email Snezana Ristovski at snezana@bccare.ca.