Seniors care is "honourable" and rewarding career path, say survey respondents
November 1, 2018 (Burnaby, B.C.) – A province-wide survey conducted by the BC Care Providers Association (BCCPA) indicates an overwhelming majority of health care workers in B.C. find their careers intrinsically rewarding and would recommend seniors care jobs to friends and family members.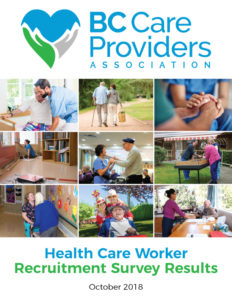 The survey which ran during the month of August asked nurses (both RNs and LPNs) and health care assistants (HCAs) why they chose seniors care as a career path. Nearly 1,200 responses came in during the 4-week survey period, with approximately 700 responses from HCAs and over 350 responses from registered and licensed practical nurses.
"The survey yielded extremely compelling insights into how seniors care workers see their occupations," says BCCPA CEO Daniel Fontaine. "Not only did they validate their personal passion for working in seniors care, they also spoke openly about the misconceptions that the public has about the work."
Perhaps the most striking statistic from the survey was that 94 per cent of health care workers view their work in seniors care as an honourable career. Asked what they valued most about their work with seniors, 76% indicated that they felt they were "making a positive difference" in peoples' lives. Seventy-one per cent responded that they cherished the relationships they build with clients.
"This survey provides us with valuable feedback to address the current health care worker shortage crisis B.C. currently faces," adds Fontaine. "It is clear that we have a lot of work to do to address misperceptions in the public about seniors care, in order to attract more workers, and strengthen the delivery of care to seniors."
While 89 per cent of survey respondents said they would be willing to recommend their occupation to others, they emphasized that the work requires a unique combination of skills and personal qualities to excel in these careers. Compassion and empathy, good communication skills, patience, flexibility, and strong work ethic were identified as qualities that best fit these occupations.
Others cited the current challenges of working in the sector, such as staffing shortages, a lack of time, and increasing acuity levels of residents/clients, as reasons why they are unwilling to recommend their occupations.
In its Situation Critical report, BCCPA identified public awareness-building, focused on rewarding seniors care jobs, as a key strategy to increase the supply of workers. In addition to wages and benefits, communication materials should emphasize job security and stability, flexible schedules, and opportunities to work locally. Peer-to-peer marketing and worker testimonials were identified as opportunities to promote careers in the sector as most people are referred by friends or family.
An overview of the survey results can be found here.
For questions regarding the survey, please contact BCCPA HHR Analyst Lara Croll at lara@bccare.ca.
-30-
MEDIA CONTACT: Rumana D'Souza, BCCPA Digital Media & Communications Coordinator, (778) 681-4859, rumana@bccare.ca
About BC Care Providers Association
Established in 1977, the BC Care Providers Association (BCCPA) is the leading industry association for B.C.'s continuing care sector. Our growing membership base includes over 300 residential care, assisted living, home health care and commercial members from across British Columbia.