As part of its 40th anniversary celebrations, BC Care Providers Association will be providing bursaries for up to 40 students currently enrolled in full-time post-secondary programs to attend the largest continuing care sector conference held in Western Canada.
BCCPA's 2018 Annual Conference includes inspiring workshops, high-profile keynote speakers, engaging networking events, and a dynamic trade show. The 2018 theme Shift Happens! will focus on the many prevalent shifts that are occurring in the continuing care sector.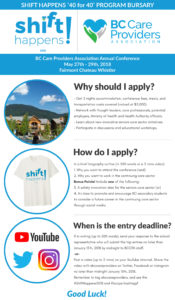 Students enrolled in programs such as gerontology, nursing, kinesiology, recreational leadership, health sciences, health https://bccare.ca/wp-content/uploads/2022/08/medcare-img22.jpgistration, health leadership & policy, engineering, occupational health and safety or health information management, are encouraged to apply for the bursary.
Successful applicants will receive:
an all-expenses paid experience to the 2018 Annual Conference in Whistler from May 27th-29th, which includes meals, two nights accommodation at the Fairmont Chateau Whistler, and transportation (valued at $2,000).
an opportunity to network with thought leaders, care professionals, potential employers, and officials from the Ministry of Health and health authorities.
an opportunity to learn more about the continuing care sector.
"I'm looking forward to reviewing the bursary entries," says BCCPA Director of Programs Snezana Ristovski.
"This is an excellent opportunity for students to share their ideas with industry leaders, and learn about the latest initiatives and innovations in the seniors' care sector."
The BCCPA is accepting written and video submissions for the bursary program. Visit our Students in Conference page for application instructions for written submissions.
How to apply for the bursary program via social media
Produce a 2-minute creative video that tells us:
why you would like to attend the BCCPA Annual Conference (and)
why you would like to work in the continuing care sector.
For bonus points, pitch a safety innovation idea for the seniors' care sector OR an idea to promote and encourage BC secondary students to consider a future career in the continuing care sector through social media.
Post the video on your YouTube channel.
Share the video link on Facebook, Twitter, or Instagram with @bccareproviders. Remember to use #ShiftHappens and #BCCPA!
Share the videos with us no later than midnight on January 15th, 2018. Successful applicants will be contacted in early 2018 about next steps.
For inquiries, please email Director of Programs Snezana Ristovski at snezana@bccare.ca.