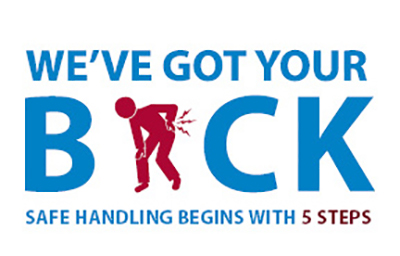 According to WorkSafeBC statistics, musculoskeletal injuries are by far the leading cause of staff injuries in BC's continuing care sector. The economic cost of these injuries is easy to measure—millions of dollars are spent annually on claims costs alone. The human and social cost is equally staggering. Constant pain. An inability to perform routine tasks. Time off work that can lead to depression. Unable to return to a job you love. And there is an impact on your clients and residents, with lower quality of care and satisfaction.
These types of injuries can happen in a split second, and can affect you for a lifetime. In its new "Safe Handling" campaign, SafeCare BC has your back and our goal is to provide you with easy to use resources, including an online 5-step toolkit, and education sessions that will help you, and your organization, prevent these types of injuries.
It can be a mouthful to say, but musculoskeletal injuries are unfortunately very common. Some of the tasks performed everyday at work—lifting, reaching, and repeating the same movements—can strain our bodies. It's this overexertion or repetitive motion that can result in an injury to the muscles, tendons, ligaments, nerves, blood vessels, and joints of the neck, shoulders, arms, wrists, legs, and back. This type of injury is called a musculoskeletal injury, or MSI.
WorkSafeBC's Understanding Musculoskeletal Injury is a good resource.
How do YOU say "musculoskeletal injuries"? SafeCare BC have prepared a short video on how some of us do.