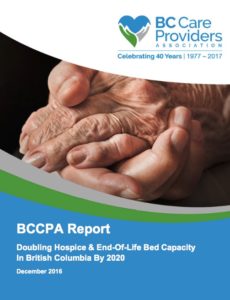 New paper provides policy recommendations
Although the BC Government has made some progress in end-of-life care such as the release of its 2013 Provincial End-of-Life Care Action Plan, as well as committing to double number of hospice beds by 2020, more action and discussion is required. In particular, this paper is the BC Care Providers Association's (BCCPA) response on how to meet the BC government's commitment.
As Canada's population ages, the number of Canadians dying each year will increase to 330,000 by 2026. The Canadian Hospice Palliative Care Association (CHPCA) estimates that each of these deaths will affect the well-being of an average of five other people, including families and loved ones, or in excess of 1.6 million Canadians. In British Columbia alone, over 30,000 people die annually, 53% of whom die in hospital.
While this paper does not advocate one care setting over the other, allowing British Columbians to die in their preferred setting is the best approach, whether this is at home, residential care or a hospice. While research indicates that most Canadians would prefer to die at home, this paper focuses on end-of-life care for those older adults living in the community for whom hospice-palliative care is more appropriate and desirable than death at home.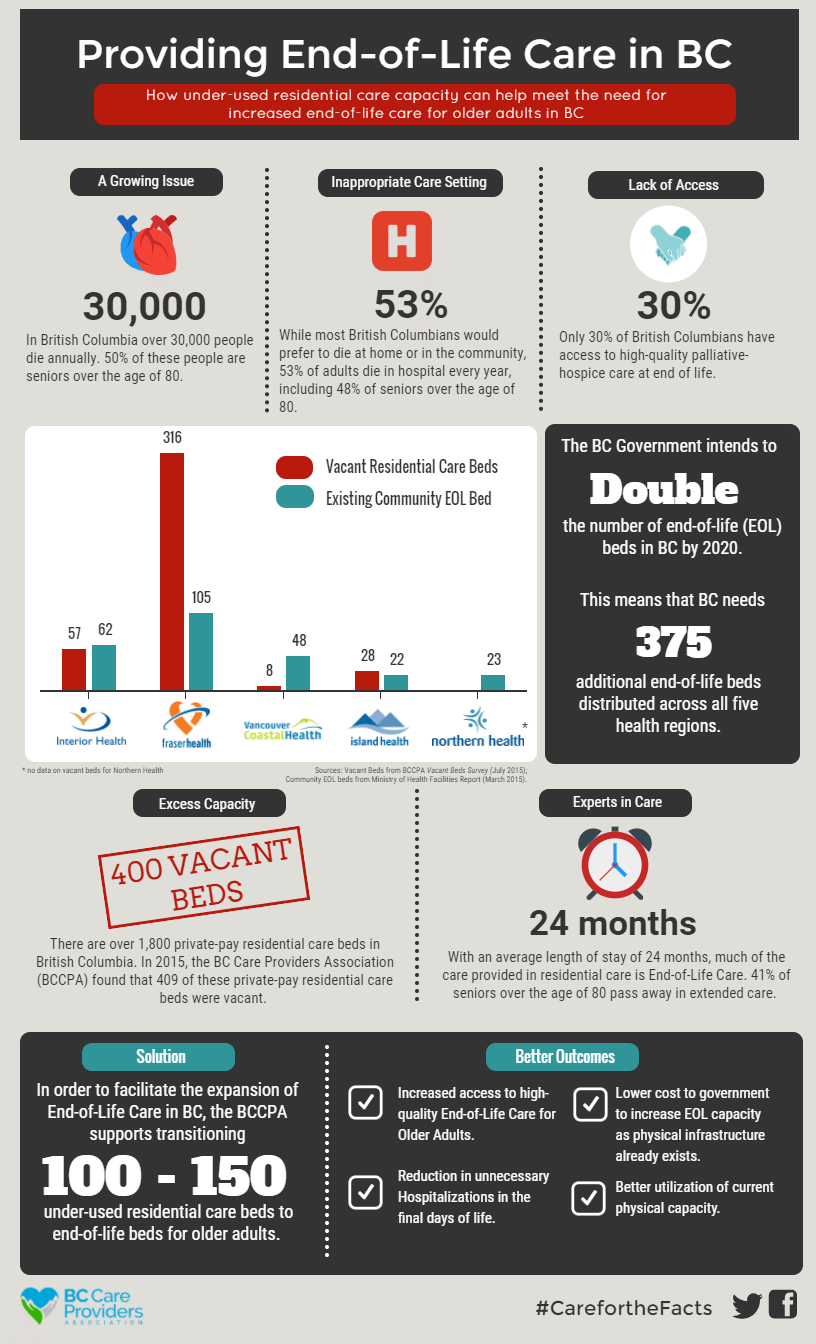 The BC Care Providers Association (BCCPA) believes that given the existing under-used capacity within the continuing care sector, that some of these under-used beds could be transitioned into end-of-life (EOL) beds, provided appropriate support is available.
Click here to download the full pdf version of the BCCPA's Doubling Hospice & End-of-Life Bed Capacity in British Columbia by 2020.
Click here to view this analysis by BCCPA Policy Analyst Lara Croll: How can we double end-of-life care capacity in British Columbia by 2020?
Click here to download the pdf version of the End-of-Life Care in B.C. infographic.