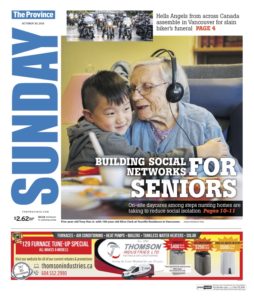 Just weeks after the influential BC Continuing Care Collaborative ("BCC3") that brought together stakeholders from across the seniors care sector, a prominent local media outlet has featured one of the key topics from that day-long discussion. In the Sunday edition of The Province, Postmedia reporter Kim Pemberton has authored a feature-length report on the emergence of "care hubs" that was featured on the paper's front page.
Ms. Pemberton attended the BCC3 event, and subsequently reached out to BC Care Providers for a better understanding of how care hubs work. During the Collaborative, BCCPA CEO elaborated on the example of Niverville, Manitoba, which is considered to be a groundbreaking example of integrating the larger community around a care home.
We invite our readers to see the entire story online via The Province website. We have also made available a PDF copy accessible by this link. It is hoped that bold coverage such as the Postmedia report will trigger more interest in communities across BC and the rest of the country.