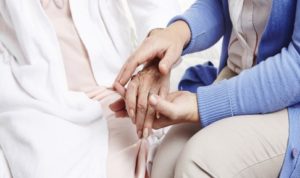 On June 29 the BC Office of the Seniors Advocate (OSA) released a report entitled 'Resident to Resident Aggression in BC Care Homes' The BC Care Providers Association (BCCPA) welcomes this timely report, which it believes helps highlight further the growing issue of Resident to Resident Aggression (RRA). Overall, the BCCPA is also in agreement with many of the conclusions outlined in the OSA report such as the need for more training and a review of direct care hours (DCH).
In the OSA's latest report it highlights an earlier report released in January 2016 entitled Monitoring Seniors' Services, which estimated, in a one-year period, there were 425 to 550 incidents that resulted in harm from RRA in residential care. In particular, the latest OSA report provides a detailed overview of these incidents (over 400) which occurred in close to 300 residential care homes, including health authority operated, private-for-profit and not-for-profit.
As outlined in the OSA report, approximately 175 care homes reported no RRA incidents while the remaining homes reported one or more such incidents. Some of the other key findings outlined in the report include:
Incident-reporting care homes tend to be larger, with an average of 103 beds compared to 89 beds for non-incident-reporting care homes;
Care homes reporting incidents also tend to have a much higher proportion of private (single occupant) rooms and, conversely, a lower proportion of their rooms configured as multi-bed rooms;
Direct care hours are slightly lower for incident-reporting care homes;
Care homes with a higher number of incidents tend to have residents with more complex needs and the presence of behavioural issues;
Residents assessed as having aggressive behaviour, cognitive deficits, and psychiatric symptoms tend to make up a greater share of resident population at care homes that have reported incidents; and
Majority of care homes have taken steps to reduce wandering behaviour, including installing alarms on main entrances (98.5%), securing internal doors (68%) and using fall mats or laser systems to monitor resident movement (68%).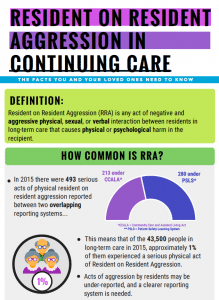 "The findings outlined in the OSA's latest report are consistent with what the BCCPA has been hearing from its members and other stakeholders as levels of RRA continue to increase as levels of dementia escalate," says Daniel Fontaine, CEO for the BCCPA.
The BCCPA and its members have taken positive steps to address this issue. In addition to increasing public awareness, in November 2013 the BCCPA hosted its first Care to Chat event specifically on the issue RRA. It has also developed tools such as its anti-psychotic best practice guide released in 2013 to help empower long term care staff to lower rates of aggression.
The BCCPA is also encouraged, as outlined in the OSA report to see that care homes with RRA incidents are taking steps to mitigate potential triggers of aggressive behaviours by implementing a range of strategies, such as outdoor walking circuits and wander guard bracelet systems.
The BCCPA also agrees strongly with the OSA about the need for Health Authority-funded training, such as P.I.E.C.E.S and shares similar concerns about the difficulties in accessing this training. The BCCPA and its partner organization Safe Care BC, for example, have been advocating for greater access to such training opportunities. Along with SafeCare BC's violence prevention workshops, another example of an effective training program includes SafeCareBC's partnership with the Alzheimer Society of BC to better train front line staff dealing with residents living with dementia, called Creating Connections: Working with People with Dementia.
The BCCPA also concurs with the need for a comprehensive review of DCH, which the BC Ministry of Health is currently undertaking. In addition to greater training and a review of DCH, the BCCPA would also agree largely with the other recommendations outlined in the OSA report such as the need for better standardized information and reporting on such incidents and that, where feasible, care homes continue to adopt strategies and design features that are known to be effective in mitigating aggressive behaviors.
While the BCCPA welcomes the OSA report, it is important, however, to view the issue in the larger context. In particular, while such incidents of RRA are indeed unfortunate they are still largely isolated events. For example, of the 43,500 people residing in long-term care in 2015, less than 1% of them experienced RRA events. It is also important to note that the issue is not specific to residential care, as such incidents of aggression also occur in the broader health system including the acute and home care.
While the BCCPA supports the OSA report, it believes that even further action could be taken to address RRA. That is why it has recommended that the Ministry of Health work with Attorney General of BC, Health Authorities and stakeholders from the sector to develop a provincial strategy on RRA. As outlined in the following op-ed from earlier this year, the BCCPA has also advocated that RRA should be addressed as part of any future discussions on a national dementia strategy, which the new federal Liberal government has committed to work with provinces on.
Likewise, as outlined further in its most recent BCCPA White Papers, along with the development of a Provincial Seniors Safety Strategy, which could include measures to deal with RRA, the papers explore new programs and team based care models to address such issues. Along with new care models such as the Dementia Village or Butterfly Care Homes another example highlighted is Behavioral Supports Ontario (BSO) established in 2012.  As part of this program, which has received significant provincial government funding, BSO staff take specialized training to gently approach and redirect residents with challenging behaviors. Staff also work with care teams to reduce aggressive or challenging behaviors. Initial results show BSO has been successful, including in one care home which has reduced antipsychotic medication use in half while lowering rates of agitation, restlessness and conflict.
The BCCPA looks forward to discuss these and other innovative approaches with the OSA as well as other stakeholders such as the Ministry of Health and Health Authorities to deal with the issue of RRA, including potentially as part of the Continuing Care Collaborative discussions scheduled for the fall of 2016.
To read the full report from the OSA, click here.
To read the news release from the OSA, click here.
For BCCPA Infographic on RRA, click here.
For BCCPA op-ed on RRA, click here.