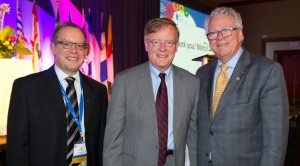 A motion submitted by the BC Care Providers Association (BCCPA) in January 2016 to the Great Canadian HealthCare Debate has been chosen as a top-10 finalist for the debate which takes place at the National Health Leadership Conference on June 6 and 7, 2016 in Ottawa.
The current submission argues for the development of a National Seniors Health Promotion Strategy by 2018, in particular be it:
Resolved, that health care leaders work with Federal and Provincial/Territorial governments across Canada, along with relevant health care stakeholders, to develop a National Seniors Health Promotion Strategy by 2018 and report back on implementation within the next three years.
"The BCCPA is pleased to see that its motion on a National Seniors Health Promotion Strategy is being considered for the Great Canadian Health Care Debate," says Director of Policy and Research Michael Kary. "We believe the issue is particularly important with a rapidly ageing population and as we look at ways to better deal with chronic diseases and keeping seniors healthy while maintaining a sustainable health system"
Detailed abstracts of each motion will be provided to conference delegates later this month, who will then have an opportunity to vote on the top-5 motions. On the opening day of the conference (June 6), delegates will vote on the top-3 motions of the five remaining. The top-3 will then be discussed at the 90-minute debate on June 7.
In its submission, the BCCPA also highlights the reasons why a Strategy like this is necessary particularly with an aging population and the need prevent serious chronic diseases from occurring. Such a strategy could also outline various approaches to promote seniors physical and mental well-being, including outlining best practices among jurisdictions in these areas. This could include areas such as reducing impacts of aging, falls prevention, nutrition and exercise guidelines, mental health, senior's isolation, etc.