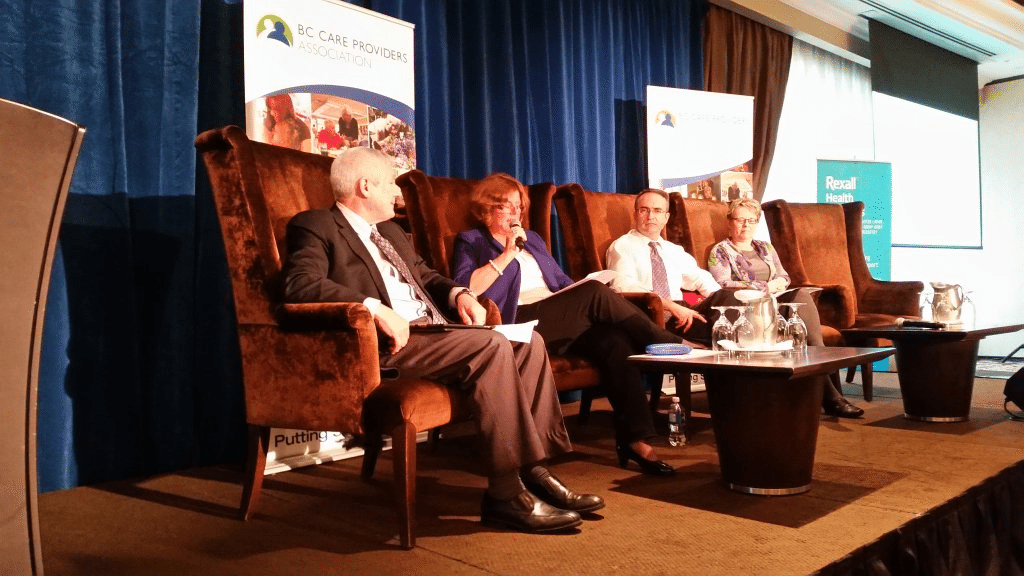 On Wednesday, March 2 the BC Care Providers Association (BCCPA) hosted the third of four scheduled Care to Chat speaker events at the Terminal City Club in Downtown Vancouver. The discussion, titled: Collaborate and Innovate: What Needs to Be Done to Support a Sustainable Continuing Care Sector in B.C.?, focused on the future of seniors care in the province and also explored ways that different organizations can work together to deliver the best care possible for an aging population.
The provincial government was represented by Assistant Deputy Minister of Health Doug Hughes, The BC Nurses Union was represented by President Gayle Duteil, Fraser Health Authority was represented by Executive Director of Residential & Assisted Living Irene Sheppard and the BCCPA was represented by Director of Policy and Research Michael Kary. The panel discussion was moderated by multiple Jack Webster Award winning columnist Gary Mason of the Globe & Mail.
"It was a pleasure to be part of the panel," says Duteil. "I found it very informative. I believe we have more in common than apart on many issues and collaboration is key to advancing and sustaining a strong continuing care sector and a robust community-centred care. Licensed nurses and an advanced scope of practice will lend quality nursing care to a variety of community and residential settings."
"Overall, I believe we had a very positive discussion about some of the key issues and pressures facing the continuing care sector now and in the future" added Kary. "Along with exploring the development of new care models such as the Continuing Care Hub, various innovative programs in B.C. and other jurisdictions were discussed which need to be looked at further in order to improve the quality of care for seniors as well as better meet the needs of an aging population particularly for those with chronic conditions, dementia and the frail elderly".
The next Care to Chat event will take place at the 2016 BCCPA Annual Conference on Tuesday, May 31 in Whistler, B.C. More details to come in the coming weeks. Click here to register for the BCCPA Annual Conference.