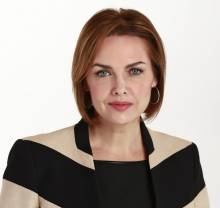 ONLINE REGISTRATION FOR 2016 ANNUAL CONFERENCE SCHEDULED TO OPEN FEB 1ST
The BC Care Providers Association (BCCPA) is pleased to announce Global National anchor Dawna Friesen as the opening keynote speaker for the 2016 BCCPA Annual Conference from May 29-31 in Whistler, B.C.
Friesen is an award-winner journalist who has worked as an anchor and executive editor for Global National since September 2010. Before joining Global, Friesen worked as NBC's foreign correspondent and anchor in London for 11 years. Appearing on NBC News, Today and MSNBC, she traveled extensively covering international news stories, including the Israeli-Palestinian conflict and the wars in Afghanistan and Iraq.
Friesen has also covered a variety of seniors issues in the past including Global National's series on living with Dementia and how Canadians are adapting to the disease. Friesen experienced the challenges of caring for people with dementia first hand as both of her parents were afflicted, which she shared in her piece called "Dementia Will Affect You". She most recently wrote a piece called "Diagnosis of dementia isn't the end. It's the beginning."
"It is an honour to have Dawna Friesen as our opening keynote speaker for the 2016 Conference," says BCCPA CEO Daniel Fontaine. "Her work on Global National sharing the personal challenges her family faced when caring for someone living with dementia was extremely moving. Countless numbers of people are affected by dementia in some way and having an individual with her public profile open up about the experience is hugely beneficial to the discussion we should be having in this country."
The opening plenary, which will take place Monday, May 30, will focus on exploring ways to best improve quality and excellence in the continuing care sector, including person-centred care and technology. The BCCPA is scheduled to open up online delegate registration for the 2016 Annual Conference on Monday, February 1st.
"Dementia will affect you": Dawna Friesen shares her family's struggle
Part 1:
Part 2 (from Global TV's 16×9):
2016 BCCPA Annual Conference Details
Date: May 29-31, 2016
Location: Fairmont Chateau Whistler Resort – Whistler, B.C.
Commercial delegates click here to register!
Delegate registration opens Feb. 1!
Title Sponsor