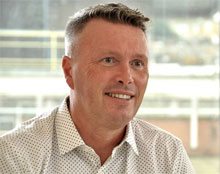 BCCPA Annual Conference registration opens Feb. 1
The BC Care Providers Association (BCCPA) is pleased to announce that the CEO and founder of Dementia Care Matters and the creator of the Butterfly care concept Dr. David Sheard will be presenting as a Keynote Speaker at the 2016 BCCPA Annual Conference from May 29-31 in Whistler, B.C. Dr. Sheard, who is from the UK, will be joined by Nicole Gaudet, Vice President for Choices in Community Living in Edmonton, for the workshop segment.
Sheard's Butterfly approach is a holistic, person-centred approach to enhancing culture of care by improving the 'lived experience' of people with dementia. Sheard defines 'lived experience' as the the minute-by-minute experience of the person with dementia in the reality they presently live in. Sheard has developed a network of over 100 Butterfly Care Home projects in the UK, Ireland, Canada, United States and Australia. For the Butterfly approach to be successful, there needs to be a focus on giving leaders strategies for implementing and sustaining person-centred care in large, institutional settings. There also needs to be a focus on the understanding of the meaning behind behaviours and why the training of staff to connect with their own emotions leads to more successful outcomes for people with dementia.
"This will be a great opportunity for BC's continuing care sector to hear first-hand from Dr. Sheard regarding his innovative Butterfly care model for people living with dementia," says BCCPA CEO Daniel Fontaine. "We felt that given the great distance between British Columbia and his home base in England, inviting him to be our keynote was a great way for delegates to have immediate access to his expertise."
"They're not looking for us to fix their behaviours – just to be there for them," says Sheard. "It's about 'being', not doing… people with dementia have heightened feelings. They will feel if you are approaching them from your head – or your heart."
"Person-centred dementia nursing care is all about inspiring the team, whilst providing people with the very best lived experience, and then knowing how to combine this with excellent nursing and personal care."
Feelings Matter Most: An Introduction by David Sheard
Details
Date: May 29-31, 2016
Location: Fairmont Chateau Whistler Resort – Whistler, B.C.
Online Registration opens Feb. 1!
Annual Conference Title Sponsor