In 2015 the BC Care Providers Association (BCCPA) has seen a steady growth in both service provider and commercial membership.
"We are pleased to see ten new service provider and over a dozen new commercial members join the BCCPA in 2015," says Hart Dashevsky, Director of Membership Services and Sponsorship. "Several of the service providers have returned to the organization and this can only strengthen our voice for B.C.'s continuing care sector."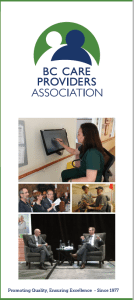 BCCPA members get access to exclusive research, policy and communication templates, best practice guides and province-wide training workshops. They also get discounts for key events, reduced rates for life, disability, health benefits, property, and liability insurance along with opportunities to shape future policies as they pertain to the delivery of seniors care.
"Our reasons for joining BCCPA is because we want to serve professionally, learn from others, and also contribute in enhancing service delivery for the most vulnerable", says Felix Kongyuy, owner and director of First Call Health and Home Care Services.
"As a private In-Home Care provider, I want to make sure I am on top of current events and current thinking from all areas of health care," says the owner and founder of Choice Dementia Services – Cyn Dunn. "The BCCPA allows me to do this."
"We're proud to be members of the BCCPA which has proven to be a strong voice for our sector," says Elaine Price, Director of Operations at Eden Care Centre.
In 2016 we are encouraging all of our members to engage in a conversation with other care providers who are not current members of the association. Our overall goal is to represent at least 85% of all the non-government care providers in BC.
If you want to learn more about the benefits of becoming a member, be sure to click here to download a PDF brochure.
New Service Provider Members – 2015
Dover House
Rest Haven Lodge
Sunrise Living of Lynn Valley
Sunrise Living of Vancouver
Sunrise Living of Victoria
Hawthorne Seniors Care Community
First Call Health & Home Care
Choice Dementia Services
Morgan Place
Residence at Clayton Heights
New Commercial Members – 2015
Accrediation Canada
Borden Ladner Gervais
LPNABC
CanAssist
Better Buy Chairs
Britco
Quart Healthcare
Community Therapists
Bell Mobility
Graphite Communications
Scout Technology Guides
Grant Thornton LLP
Care Source Inc.
Ballistic Arts