Speaking at a sold-out Care to Chat event in Vancouver hosted by the BC Care Providers Association (BCCPA) and SafeCare BC, one of the founders of the Netherland's ground breaking Dementia Village said the concept should help inspire new and innovative seniors care models in British Columbia. Eloy van Hal said the goal of the village model is to find a way for frail seniors to participate in daily life the same way they did prior to needing dementia care.
In the audience were a number of dignitaries including the Hon. Suzanne Anton, Attorney General and Minister of Justice, Darryl Plecas, Parliamentary Secretary for Seniors and NDP MLAs Judy Darcy and Selena Robinson. Also in attendance were Isobel Mackenzie, BC's Seniors Advocate and a number of representatives from the health authorities and labour unions.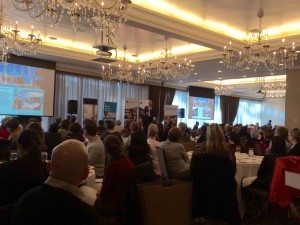 "The model attempts to minimize disability and maximize well-being by providing seniors an environment that is reflective of their past physical and social surroundings," said van Hal.  "By reducing the residents' risk of danger through security measures, the village provides residents an opportunity to maintain as much of a normal life as possible."
Located on 4 acres of land in Weesp, Netherlands, the Dementia Village serves approximately 150 seniors residing in 23 residential units. About 240 employees, who are trained geriatric nurses and caregivers dressed in street clothes, provide 24-7 care to residents. Among other things, the Village allows seniors who may have been more aggressive in other care settings to experience reduced levels of anxiety and agitation in a home environment that provides greater freedom to wander and stay active. Click here to view a short BBC video on the Dementia Village.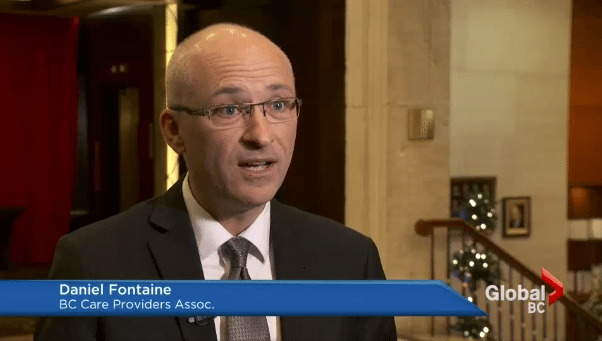 BCCPA CEO Daniel Fontaine said the Dementia Village concept is a good example of how alternative care models that put seniors first can improve quality of life and potentially save millions of dollars. "When you consider that this innovative model is much more affordable than the current wide-spread practice of having frail seniors remain in acute care hospital beds for extended periods, a dementia village is one option we should consider – particularly with large sites like Metro Vancouver's Riverview Hospital sitting unused."
Globally, there are an estimated 47.5 million people living with dementia, and the number is expected to increase to 75.6 million by 2030. In BC, the total number residents with dementia is expected to grow by 50 per cent over the next decade from approximately 70,000 today.
"In addition to improving the quality of life for seniors, this and other innovative dementia care models hold significant promise to improve the safety and performance of care staff," said SafeCare BC's Executive Director David Hurford. "By ensuring areas are well lit, avoiding reflective and slippery floor surfaces, applying easy to use street furniture and posting distinctive landmarks to assist navigation, the safe design of care homes will be an increasingly important element of seniors care in the future."
Today's event with Eloy van Hal is part of an ongoing series of "Care-to-Chat" sessions the BCCPA host each year. BCCPA is a largest continuing care sector association in Western Canada with over 265 members from across the province.  This event was co-sponsored by Safe Care BC which was established in 2014 to help reduce workplace injury rates in the seniors care sector – in collaboration with WorkSafeBC.
Copies of the van Hal's slide presentation will be made available to BCCPA members in the coming days. To listen to van Hal's interview on CBC's Early Edition with host Rick Cluff, please click here.
The next Care to Chat event will be taking place on March 3, 2016. More details will be announced shortly.
Title Sponsor

 Silver Sponsors