By Gagan Lidhran
October 7, 2015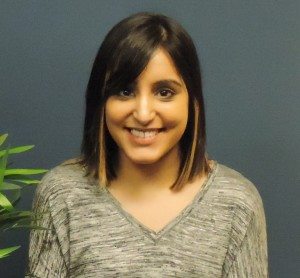 When placing a loved one into a care home due to dementia, family or friends often fear for their safety and care. It is estimated that as people are living longer, there will be a sharp increase in the number of people with dementia. Globally there are an estimated 47.5 million people living with dementia, and the number is expected to increase to 75.6 million by 2030.[i] Closer to home, 70,000 BC residents are currently affected by dementia, and this number is expected to increase to 105,000 by 2025[ii].
When considering the implementation of innovative dementia care models within BC, it is crucial to consider the ethical and economic aspects of the model in question, and whether such a model is feasible within the Canadian context. One potential dementia care model to be considered is the Dementia Village in the Netherlands. The Dementia Village (Hogeweyk) is home to approximately 150 seniors living with severe cases of dementia. Hogeweyk creates an "alternate reality" for the elders who are encouraged to roam around the confines of the village, enjoying everyday pleasures such as shopping, cooking and going to the movies.[iii] The secured community has 23 residential units, which house six to eight residents each. Two-hundred and forty employees, who are trained geriatric nurses and caregivers dressed in street clothes, provide 24-7 care to residents.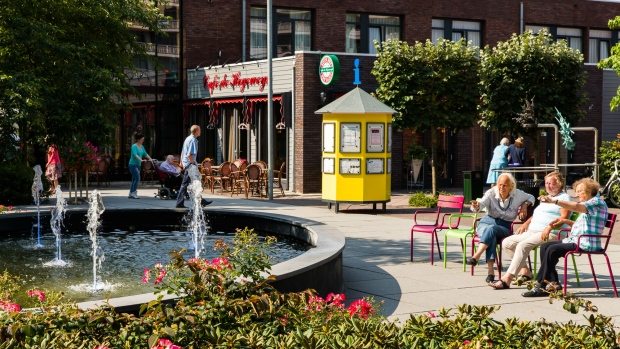 Yvonne van Amerongen, co-founder of Hogeweyk, and others created the concept of the dementia village to find a way for seniors to participate in daily life the same way they did prior to needing dementia care. The model attempts to minimize disability and maximize well-being by providing seniors an environment that is reflective of their past physical and social surroundings.[iv] By reducing the residents' risk of danger through security measures, the village provides residents an opportunity to maintain as much of a normal life as possible.
Netherland's dementia village concept has faced both criticism and praise since it first opened in December 2009. The model can have positive physiological benefits on residents by keeping them active longer, as they are encouraged to roam around the village and join activity clubs. Seniors in the dementia village also tend to eat better and live longer, due to decreased stress and medication usage.[v]  Academics and health professionals, however, have questioned the ethics of the village itself, as creating an alternate version of reality for seniors could potentially mean misleading them about their surroundings. Furthermore, by congregating patients with dementia in their own village, seniors could become further isolated from the larger community.
Implementing such a model in British Columbia could also require significant resources, including funding, staffing, and land. In the Netherlands, Hogeweyk sits on 4 acres of land and construction costs were €19.3 million (about $27 million Canadian). The project was funded primarily by the Dutch government, which provided approximately $25 million for the village.[vi] To construct something similar in BC would require considerable funding from the government and/or the private sector. Staffing resources could also be significant, given that levels of staffing appear higher than most residential care environments. Georgian Bay Retirement in Ontario has developed a memory care model on a smaller scale that implements elements from Hogeweyk.[vii]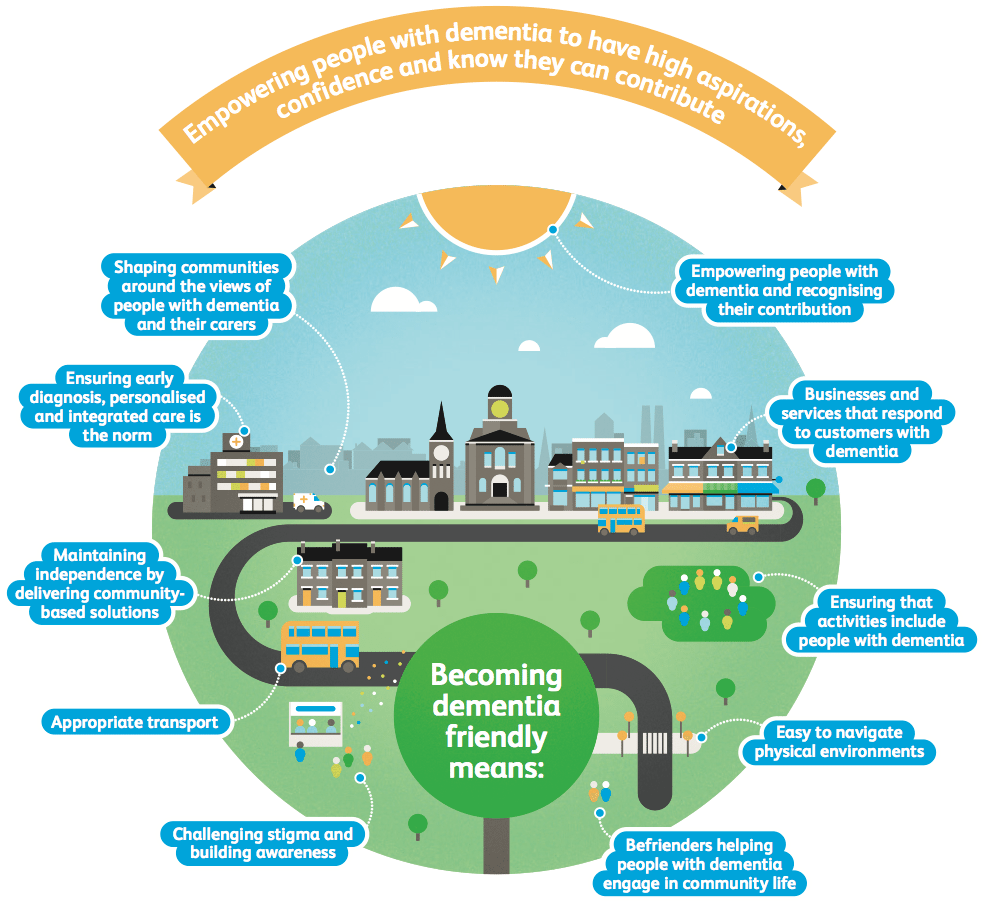 However, Dementia Villages are not the only way to improve care for people living with dementia; other options include Dementia Friendly Communities. Dementia Friendly Communities make the physical environment easier to navigate for people with dementia, such as clearer signage and directional information, as well as reducing the stigma around dementia so that people with dementia can participate in daily activities.[viii] Dementia Friendly Communities are supported by the Alzheimer's Society of B.C., and in January 2015, the City of New Westminster became the first municipality in BC to have a dementia friendly city council.
Another option is the creation of Dementia Friendly Care Homes. Dementia-friendly care homes also create environments that are legible, distinctive, safe, and familiar to elders. This includes ensuring areas are well lit, avoiding reflective and slippery floor surfaces, easy to use street furniture, and distinctive landmarks to assist with navigation for those with dementia.
Ultimately, whether the most appropriate approach is the implementation of Dementia Friendly Care Home, a Dementia Village, or another alternative model, there is a definite need for further study and dialogue to address this issue. This includes looking at the most appropriate models to meet the needs of a growing and aging population effected by dementia. In this regard, the BC Care Providers Association (BCCPA) and SafeCare BC are co-hosting a Care to Chat event on November 25, 2015, with Eloy van Hal, one of the primary architects of the Dementia Village in the Netherlands. The BCCPA hopes this will begin an important discussion on exploring new dementia care models, including the Dementia Village, in Canada. Other models, such as Dementia Friendly Care Homes, will also be explored.
References 
[i] Das, Reenita (August 11, 2015). Accessed at: http://www.forbes.com/sites/reenitadas/2015/08/11/a-silver-tsunami-invades-the-health-of-nations/
[ii] Workforce Analysis, Health Sector Workforce Division, Ministry of Health, Dementia (age 45+ years) March 24, 2014, project 2014_010 PHC
[iii] Anderson, J (2013) "Global Approaches to Dementia Care." Seniors living blog,  Accessed at: http://www.aplaceformom.com/blog/dementia-care-around-the-world-4-2-2013/
[iv] Jenkins, C., and Smythe, A. (2013) "Reflections on a visit to a dementia care village." Nursing Older People, RCN Publishing Company, 6(25).
[v] Schmid, C.  (2013) "Hogewey Dementia Village | The Future of Dementia Care?" Best Alzheimer's Products. Accessed at: http://www.best-alzheimers-products.com/hogewey-dementia-village.html
[vi]The Amazing Village in the Netherlands Just for People with Dementia. Accessed at:  http://twistedsifter.com/2015/02/amazing-village-in-netherlands-just-for-people-with-dementia/
[vii] To learn more about the Canadian Dementia Village, see: http://www.aplaceformom.com/blog/7-2-15-canadian-dementia-village/
[viii] Haggarty, M (2013). "Dementia Friendly Communities Worldwide: A Summary of Web Searches." Centre for Education and Research on Aging and Health, Lakehead University.