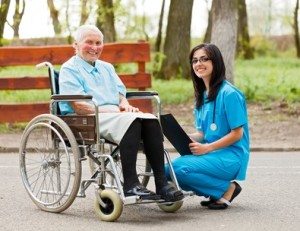 As you may be aware, the BC Ministry of Health earlier this year announced it would be changing its policy on wheelchairs for residents in care homes. In particular, the revised policy states that residential care service providers must provide a "basic" wheelchair to residents who are prescribed a wheelchair as a medically required piece of mobility equipment and that residents will not pay an additional amount, beyond their assessed client rate, for basic wheelchairs. This new policy became effective April 1, 2015, and non-government service providers were given until October 1st, 2015 to comply.
With the proposed policy change, a basic wheelchair is currently being defined as "a manual, self-propelled, safe, and durable wheelchair that enhances personal mobility, has a basic contoured seat cushion, and which is reasonable to obtain and maintain."
Based on a member-wide survey we conducted earlier this year, the BCCPA is well aware of and also expresses concerns about the potential adverse effects the change in policy could have on its members. This includes but is not limited to the significant annual costs related to the purchase, maintenance, and storage expenses. Overall, the change in policy represents another potential unfunded cost burden on care providers.
In relation to these concerns, the BCCPA was notified in late September that the Ministry of Health has responded to our request for a delay in the full implementation of the policy. The new deadline for compliance deadline has been set as January 1st, 2016.  When granting the extension, Doug Hughes, Assistant Deputy Ministry of Health, acknowledged that implementation within the non-government service provider sector is complex, and there is a need to "identify the stock of wheelchairs required to meet the requirements of the policy as well as space required to store excess wheelchairs," among other issues.
The BCCPA is continuing to consult weekly with the Ministry of Health on the new policy through a working group in order to minimize adverse effects on our members.
We will keep you posted regarding any new developments as we become aware of them over the coming weeks.
More detailed information regarding the policy can be found here.