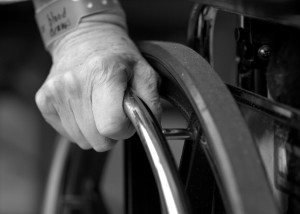 The BCCPA is asking its members to complete an important survey regarding a new proposed wheelchair policy developed by the Ministry of Health.
The BC Ministry of Health recently announced it will be changing its policy on wheelchairs for residents in long-term care homes. In particular, the revised policy clarifies that residential care service providers must provide a basic wheelchair to residents who are prescribed one as a medically required piece of mobility equipment.  Residents will not pay an additional amount, beyond their assessed client rate for basic wheelchairs.
The new policy, which came into effect on April 1, 2015 is to be implemented in a phased approach over a six month period.  The BCCPA is well aware of the wheelchair issue and the potential adverse effects it could have on its members including additional costs such as increased maintenance and storage  expenses. 
The BCCPA is in regular consultations with the Ministry where it is raising these and other issues with regards to the proposed policy change. Along with obtaining direct feedback from its Board and members, it is providing an opportunity for its members to formally complete a survey (responses due by Friday May 29, 2015) on the issue in order to obtain broader feedback and summarize back any concerns in a letter to the Ministry.
If you are a BCCPA member and are interested in learning more about the issue or are interested in completing our brief survey please click here.