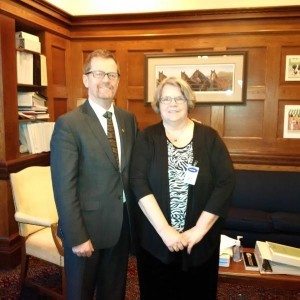 Last month the BC Care Providers Association was pleased to recognize outstanding service and dedication in the sector at the 2nd Annual BC Care Awards in Victoria. Over 100 guests including care providers, industry stakeholders, and over 30 MLAs attended the special ceremony. Hon. Terry Lake, Minister of Health, provided the keynote speech and presented the awards for the second year in a row.
Front-line health care workers are often the first link to providing quality care for BC's seniors. We are pleased to profile this year's BC Care Providers of the Year Award recipient Wendy Miller. Miller is a registered personal care aide with Bayshore Home Health in Victoria.
"Wendy Miller is well-known by her clients, their families and her co-workers as a person with an incredible heart and capacity for empathy," said Minister Lake when presenting the award. "Not satisfied to just complete the necessary tasks for her clients, Wendy is known to take every opportunity to make her care special, personal and relevant to those she cares for."
Wendy Miller's nomination form, submitted by Stasia Hartley, Area Director Vancouver Island for Bayshore Home Health, can be read below.
Wendy Miller's Nomination
How does the nominee demonstrate a commitment to quality, compassion and excellence?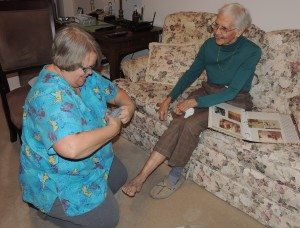 Wendy Miller is a registered personal care aid and was awarded our 2014 'Caregiver of the Year' award from the Bayshore Home Health branch in Victoria. Wendy is compassionate and caring with all clients and is often requested by families for her competent and loving way of dealing with seniors, especially those with dementia. When she see's a client that has been 'purple dotted', she calls them 'My Violets', as she is able to calm even the most agitated client. Wendy works many live in shifts, for clients who are palliative or for those waiting to be placed in a facility. She sings, knits, reads stories and loves to cook and always treats everyone with such dignity and respect. 
One client for whom she was assigned to cook for was an injured worker, who spoke very little English. To make matters even more difficult he only had a hot plate and a kettle. On her own time, she took his food ingredients home and cooked up a number of dishes that could be easily reheated on his hot plate. And on more than just one occasion she had arrived with a hot dish directly from her own oven for him to have on that visit. She even went on line to find recipes from his native land, to try to and make it the best dining experience she could for him. Nothing is too much, when it comes to providing care for this amazing caregiver. We are so proud that she has chosen Bayshore Victoria to be her employer.
How has this commitment already been recognized by their colleagues, supervisor, resident or a member of their family?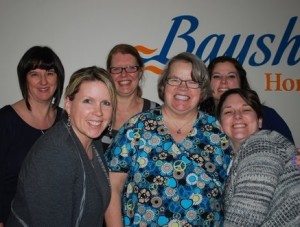 This year she was awarded our [Bayshore] Caregiver of the Year award, and the President of the Company, Stuart Cottrelle presented it to her at a surprise luncheon in our Victoria office. Typical of Wendy, she was completed caught off guard, not realizing that she had been chosen from our 120 employees of the branch for this award. A humble caregiver, who works very hard to make a difference in the lives of so many.
For a recap of the 2nd Annual BC Care Awards, as well as profiles on the other recipients, please click here.