Financial abuse of a resident in care can often be a difficult to recognize. Moreover, substitute decision-making including wills, enduring powers of attorney, and representation agreements can be complex to navigate.

The BC Care Providers Association is pleased to have hosted its fifth member exclusive workshop in partnership with the BC Centre for Elder Advocacy and Support(BCCEAS) this morning. Over the course of an interactive 3 hours, BCCEAS representatives Lin Chen and Kevin Smith offered an overview of issues related to financial literacy and advanced planning as well various forms of financial abuse affecting seniors. Workshop attendees were also briefed on Canada's Financial Literacy Strategy for Seniors and gained a better understanding of the legal tools used in BC for substitute decision-making.
To date over 80 BCCPA members have attended the pilot workshop series which was launched last October.
"We have had a tremendous response to the entire workshop series," says Michael Kary, Director of Policy and Research. "We have covered a number of interesting topics that range from the JIBC Certificate in Community Care Licensing to labour law strategies. We look forward to expanding the scope and diversity of these workshops in the months ahead."
The next BCCPA event set to take place is the April 27th Care to Chat speakers session titled, "Debunking the Myths and Misconceptions of BC's Continuing Care Sector." Attendees at this event are eligible for CCHL MOC Category I Credits.
Former Deputy Premier & Well Known Pollster Take Stage For Next Care To Chat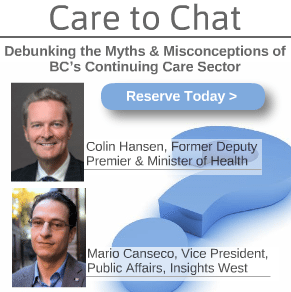 Join Colin Hansen, Former Deputy Premier and Health Minister, high-profile pollster Mario Canseco, VP, Public Affairs, Insights West, and a panel of industry experts who will be exploring the many myths and misconceptions of BC's dynamic continuing care sector on April 27th. Canseco will be revealing for the first-time ever a comprehensive review of the results of an exclusive public opinion poll commissioned by the BC Care Providers Association. Over 800 British Columbians were surveyed and asked to provide their perspective regarding what they believe to be either a possible myth or misconception regarding seniors care in the province.
Are BC's health care aides really making more injury claims compared to lumberjacks, police and fire personnel? Is there enough funding in the system to provide for a publicly funded care bed  or home care service…Read more.
Care To Chat Offers MOC Credits

MAINTENANCE OF CERTIFICATION
Attendance at this program entitles certified Canadian College of Health Leaders members (CHE / Fellow) to 1 Category II credits toward their maintenance of certification requirement.