Over 80 people attended the official grand opening of the new BCCPA office located in Metrotown. The event also served as our Christmas Open House and was attended by MLA Shane Simpson, several Board directors and dozens of service provider and commercial members.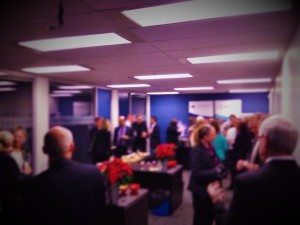 "It was great to see so many people out yesterday to help us celebrate the season and officially open our new office," says Daniel Fontaine, CEO for the BCCPA. "We've accomplished a lot in 2014 and this gave everyone a an opportunity to pause for a moment and celebrate some of our key achievements."
The new office, which is shared with SafeCare BC staff, comes equipped with a new training centre, ample free parking and easy access to the Metrotown SkyTrain station. If you are in the neighbourhood, be sure to drop by during regular business hours!
A year-end summary of BCCPA key milestones and accomplishments in 2014 will be published later this month.