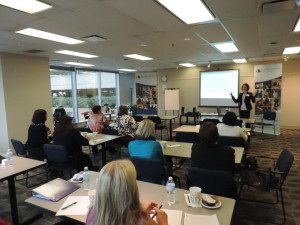 The BC Care Providers Association is pleased to have piloted its first in-house workshop exclusive to BCCPA service provider members. The three-hour workshop titled, Infection Prevention and Control: 365 Days a Year, Back to Basics was led by Cynthia Arseneau, Manager of Clinical Education Programs at Medical Pharmacies Group Limited. It was the first workshop of its kind held in our new training centre located at Metrotower II in Burnaby.
"Providing direct access to an expert in the field of infection and prevention control allows our members to gain new insights and training that can be applied on the front lines," says Daniel Fontaine, CEO. "With the first workshop now behind us, we are looking forward to our next workshop on Labour and Employment law later this month."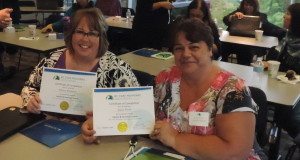 During the three hour interactive workshop, participants learned how hand hygiene, respiratory etiquette, cleaning, disinfection, and vaccination can be effectively used to control communicable disease within a community. With flu season ahead of us, attendees described the workshop as being a great reminder of the basics in infection control as well as informative of the resources available to them.
"In a care home infection prevention and control is the best way to keep residents and staff happy and healthy…" says Arseneau. "The better we (staff) are at prevention the healthier the lives of our residents that we care for every day."
F.L.U.E. Campaign Aims To Reduce Spread of Inluenza
The BCCPA also took the opportunity to distribute F.L.U.E. (Friends/Family Lather Upon Entry) stickers to all workshop participants. F.L.U.E. was a public awareness campaign which the BCCPA launched last fall to help prevent the spread of influenza in our care homes.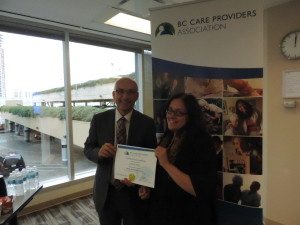 The pilot workshop series, including an upcoming workshop on Labour and Employment Law later this month, stem out of the 2013-2016 Strategic Plan developed by the BCCPA board. Within the Strategic Plan, the Board identified a need for increased member engagement and access to training resources as key priorities.
For those unable to attend today's workshop, we will be posting a recording of the session in the member-only portion of our website. We are also planning on live web-casting future workshops for members residing outside of metro-Vancouver.
For more information on the next workshop, see below.
New Workshop Focuses on Labour Law and its Impact on Care Home Operations

For our second workshop, the BC Care Providers Association has partnered with the Vancouver labour and employment law firm of Coutts Pulver LLP to provide members a half-day seminar addressing the latest developments in workplace law on October 24, 2014. The workshop will explore the following topic areas:
Bill 14 – Bullying, Harassment and Mental Disorders in the Workplace
Attendance Management – How to Deal With Frequently-Absent Employees
Wrongful Dismissal Update – The Latest Word from the Courts and Arbitrators on Dismissals in the Workplace
Of particular interest to HR specialists, the workshop will be led by top experts in the field including lawyers Paul Pulver, Joe Coutts, Dean Crawford and Megan Tweedie. For more information on the workshops or to register, please visit the links below
Workshop two: Labour and Employment Seminar
Registration is nearly full, so don't wait, sign up today!