The BCCPA is pleased to announce the sellout of its second member exclusive workshop. The informative session titled, Labour Law for Care Home Operations, will offer service providers key tips for staying up to date on the latest legal developments as well as strategies to effectively manage their workforce. The workshop is brought to you by labour and employment law firm Coutts Pulver and will be led by experts Paul Pulver, Joe Coutts, Dean Crawford and Megan Tweedie. Coutts Pulver is also returning sponsor of the Care to Chat speakers series.
"We have received a terrific response to our new workshop series," says Daniel Fontaine, BCCPA, CEO. "With four of Vancouver's top labour and employment lawyers leading the session, members are in for a valuable and insightful workshop."
Infection Workshop Opens On A Good Start
Earlier this month the BCCPA held its pilot workshop on infection prevention and control which was led by Cynthia Arseneau, Manager of Clinical Education Programs at Medical Pharmacies Group Limited. During the three hour interactive workshop, participants learned how hand hygiene, respiratory etiquette, cleaning, disinfection, and vaccination can be effectively used to control communicable disease within a community.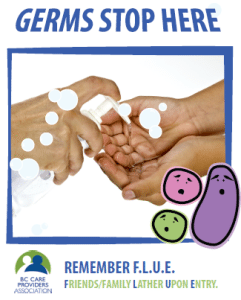 With the flu season ahead, attendees described the workshop as being a great reminder of the basics in infection control as well as informative of the resources available to them. The BCCPA is also encouraging members to order their complimentary F.L.U.E. (Friends/Family Lather Upon Entry) stickers to prevent the spread of influenza in our care homes this fall.
"A key initiative of these workshops is to offer service providers with the tools and resources they need to provide the best care possible," says Hart Dashevsky, Director of Membership Services and Sponsorships. "These workshops are sector specific, practical and in high demand. We are pleased to bring them exclusively to BCCPA members."
Though registration is now closed, we will continue to accept a limited number of registrants on a wait-listed basis. To add your name to the wait-list please visit here.