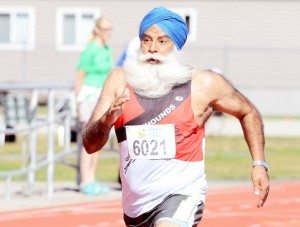 Seniors are Currently Going for Gold in Venues Across the Community.
Langley Advance 
September 10, 2014 03:28 PM
Langley is experiencing a flurry of activity as athletes entering, or in, their golden years go for gold at the B.C. Seniors Games.
Most of the sporting events that are part of the games, which run Sept. 9-13 in venues across the community, got underway on Wednesday.
The 27th annual games brings together almost 4,000 competitors ages 55 and older. The male and female athletes are competing in 25 sports ranging from cribbage to ice hockey.
Roughly 1,200 volunteers are offering helping hands over the five days of competition and social activities.
Wednesday marked the first day of track and field competition at McLeod Athletic Park, and Langley Township Councillor Steve Ferguson put his running skills to the test.
"I'm not going to set any world records," Ferguson said Sept. 3, prior to the games starting. "After all, I was on council when most of these facilities were built and this is the first time that I am able to participate as an accredited athlete."
Ferguson, 60, finished last in his 200-metre race at around noon Wednesday, but had fun in the process, chuckling as he rambled down the home stretch.
His wife Denise and 17-year-old daughter Lydia were in the MAP, cheering Ferguson on as he made his way towards the finish line.
"I made it!" Ferguson exclaimed to fellow councillor Bev Dornan, who congratulated him after he crossed the finish line. "I can run faster than that, it's just that I've had some leg problems. But hey, I finished the race. I actually signed up for the 100 [metre race] and they put me in the 200, as well, and I'm not really a 200 [metre runner]. But I don't think it would make much difference. Some of those guys are pretty fast."
Ferguson signed up to compete as soon as the games were announced.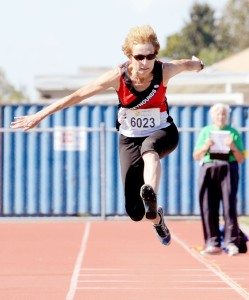 "They didn't have too many people, as you can see, so they basically let me run," Ferguson said.
All told, Ferguson has served as a Township councillor for 21 years and has seen many facilities, that are being used for the games, built in the community.
"You get involved and for the first time, you get a chance to participate," he said. "I thought, 'Hey, the opportunity's there.'"
Ferguson was not surprised in the least at the level of competition. He used to play rugby competitively and had, he said, "a bit of speed there," but wasn't able to demonstrate that on Wednesday.
"I knew I'd have a problem but it's all about participating, having fun, and generating interest in the community," he said.
A veteran track athlete at MAP, 85-year-old Isaac Thiessen is taking part in his 20th provincial seniors games. When he was 64, he played a year of softball before switching to the track the following year. He missed the 2013 event in Kamloops, but leading up to then, had competed in 19 consecutive games.
"I feel good, I just don't have the same speed anymore," Thiessen said.
As the games approached, Thiessen, who has lived in Langley for the past 15 years, trained five days a week in running and throwing event. He's taking part in the hammer, discus, long jump, 100m and 200m at the games.
The event is all about keeping seniors active, Thiessen said, and for the camaraderie…Continue reading at LangleyAdvance.com