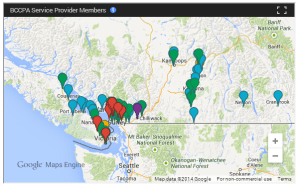 The BC Care Providers Association is pleased to launch its new BCCPA Membership Map Application. This interactive member directory, powered by Google Maps, allows users to easily browse BCCPA members using filters such as proximity, type of care facility, or goods/service rendered. Users can conveniently navigate the map to locate service providers and commercial members within their area and access their contact information.
"The focus of this new map is to bring our service provider and commercial members within a mouse click of each other," says Hart Dashevsky, Director of Membership Services. "Through this new application, BCCPA members can forge new relationships to offer BC seniors the best products and care available, as well as take advantage of exclusive member deals."
BCCPA Map Application Features:
Looking to install news resident lift systems but not sure who to call? Did you know that there are over 55 BCCPA Service Provider members in the Fraser Valley alone? Interested in learning about the latest care staff training on the market? Simply browse the map and find answers to these questions and more.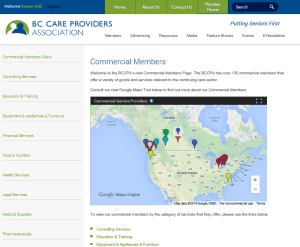 There are various features you can turn on and off with the click of a button in the Membership Map Application. For example, you can view:
View all BCCPA members by regional health authority
Use filters to view BCCPA service providers by type of care offered, including residential care, home care, assisted living, and more.
Locate the leading commercial products and services within the sector ranging from technology and software services to food and nutrition, and more.
To explore the newly launched BCCPA Membership Map Application, click here. Members can also access the application through the left-hand sidebar located in the members homepage.
For more information about becoming a BCCPA member, please contact Hart Dashevsky at hart@bccare.ca or by telephone at (604)736.4233 ext. 231