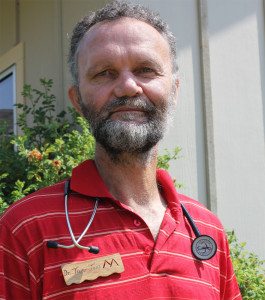 For two decades, Dr. Trevor Janz has served the seniors of Nelson, especially those living in residential care. Described as offering care "with heart", he will drop to his knees in order to have an eye-to-eye conversation with a resident in a wheelchair. He serves both as the personal physician for most of the residents and as the 'house doctor' for the care home.
He supports residents' well-being in other ways as well. At Mountain Lake Seniors Community, where he is Medical Director, he chairs the resident interdisciplinary team care conferences. He and his wife – also a physician – voluntarily plant bulbs and then delight the residents every spring by delivering huge planters brimming with bright yellow daffodils.
His partnership with Park Place Seniors Living and his work with seniors in residential care dates back 20 years. In 1994, he became the Medical Director and 'house doctor' at Park Place's first care home, Willowhaven Private Hospital. Willowhaven was an 85-bed seniors' residential care home in Nelson which was originally constructed in 1953, with substantial upgrades and additions in late years.. It was closed as a seniors care home upon the opening of Park Place's Mountain Lake Seniors Community.
As an integral part of the Willowhaven Community, Dr. Janz spoke out on behalf of residents when Interior Health first proposed closing the aging care home. Although the initial closure was delayed, his commitment to seniors is clearly shown in his comments, quoted in the Nelson Daily News on July 11, 2002:
"I thought it was very unfair of the government to shut down their home with so little notice and advanced planning," he said at the time. "I would like to see the government treat seniors with more respect and to do some long-range planning."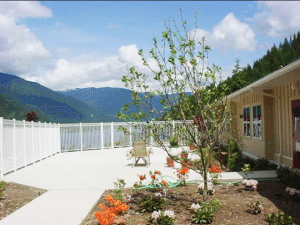 Dr. Janz was also the Medical Director at an Interior Health site, Mount St. Francis, from 1999 until it closed in 2005. Both closures were part of an Interior Health upgrade of aging residential care homes: both were replaced by the new Mountain Lake Seniors Community built and operated by Park Place Seniors Living.
When Mountain Lake opened, Dr. Janz became the Medical Director for the new Campus of Care, which offers 92 residential care beds and 40 assisted living suites. He is also the site doctor for Jubilee Manor, a small Interior Health owned home in Nelson that provides 39 residential care beds and 5 supportive housing units.
As if that were not enough, his dedication to care includes:
Serving as an emergency room physician at Kootenay Lake Hospital;
Serving as the Regional Long-Term Care Medical Director for the Kootenays;
Serving on Interior Health's Medical Advisory Committee; and
Chairing Interior Health's Kootenay/Boundary Ethics Committee.
Recognized as an active advocate of improved quality-of-life for frail seniors and good end-of-life care, Dr. Janz was a featured speaker at the May 2014 B.C. Hospice and Palliative Care Association forum. His topic, Planning for Your Life, reflected his commitment to advance care planning.