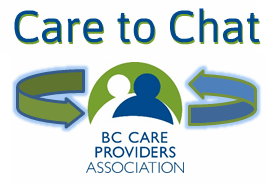 After a successful inaugural season, the BC Care Providers Association is pleased to bring you the second installment of the Care to Chat speakers series. Over 600 people attended the four sold out events which covered a diverse and interesting set of topics affecting the continuing care sector.  Click here for a look back at last seasons thought provoking discussions. 
This year's Care to Chat season kicks off on November 13th with the session titled, Creating a Culture of Safety in BC's Continuing Care Sector: Can Anything Be Done To Reduce The Highest Injury Claim Rates in BC? The session will explore strategies for creating safer work environments for continuing care workers in BC, what SafeCare BC can learn from its provincial counterparts, and how injuries prevent care givers from caring to the best of their abilities.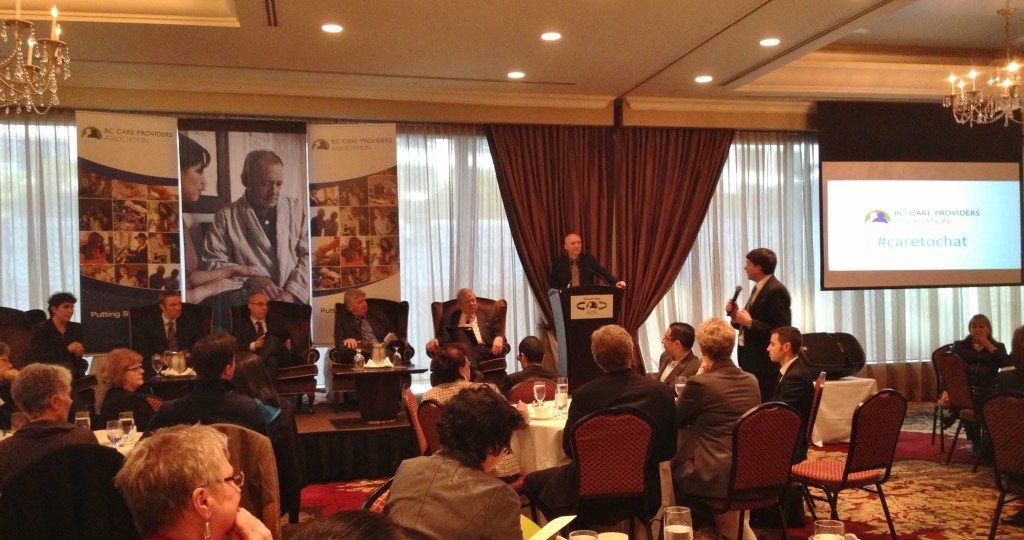 The expert panel will feature Jennifer Lyle, Executive Director of the newly established industry safety association, SafeCare BC. Also joining Lyle will be Dave Keen, Executive Director of Workplace Health at the Fraser Health Authority, Stephen Symon, Manager of Industry and Labour Services & Healthcare Industry at WorkSafe BC, and Della McGaw, OSH Representative for the Hospital Employees Union (HEU).
"SafeCare BC is pleased to be participating in the BCCPA's upcoming Care to Chat," says Lyle. "The safety of staff in the workplace very much influences the quality of care a resident receives. We look forward to participating in a thought-provoking discussion on this very important topic."
To sign up for the next Care to Chat titled, Creating a Culture of Safety in BC's Continuing Care Sector, please click here.
SafeCare BC Hosts Extraordinary General Meeting (EGM)

Immediately following Care to Chat, SafeCare BC will host an EGM to mark the official transition of its governance from the interim to permanent Board. To for more information, or to register for the SafeCare BC EGM, click here.
Care to Chat Takes On Pigeon Hole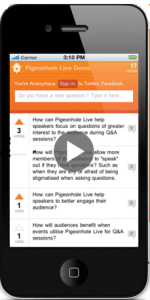 New this season, the BC Care Providers Association will be piloting Pigeon Hole Live. The interactive technology will enable Care to Chat attendees to post and vote for questions using their mobile device. We will also be prospecting on how we can use the latest technologies to better connect with our regional members across the province.
Thank You To Our Returning Sponsors:
Returning as the sponsors for this season are Medical Pharmacies as Platinum Sponsor, Rexall Specialty Pharmacy as Gold Sponsor, and Coutts Pulver LLP as Silver sponsor. 
"We would like to extend our sincere gratitude to our returning sponsors," says Hart Dashevsky, Director of Membership Services and Sponsorships. "It is through their continued support that we are able to make visions like Care to Chat a reality."
Sponsorship opportunities are still available. The submission deadline to become a Care to Chat sponsor is Friday, August 31 2014 at 12 pm PDT. For more information, click here.
Care to Chat Sponsors:
Platinum

Gold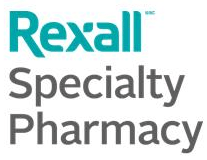 Silver

About: Care to Chat is a special speakers series of breakfast and lunch sessions featuring some of Canada's opinion leaders and experts on thought-provoking issues of interest to care providers, business leaders and key decision makers in the continuing care sector, as well as other professionals, seniors and their families.