Vancouver, BC (May 20, 2014): Over 400 delegates and blue ribbon panelists will be attending the 37th Annual BC Care Providers conference being held in Whistler from May 25-27th. The theme of this year's conference is Best Practice, Better Care and will feature a number of distinguished speakers.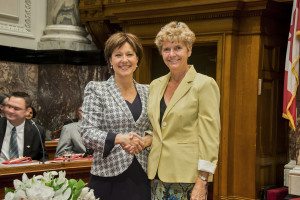 "BC's health care system follows the principles of caring for those who cared for us and supporting those who need our help," said Parliamentary Secretary to the Minister of Health for Seniors Linda Larson. "The BC Care Providers Association continues to improve seniors' care throughout the province and we appreciate the work that care givers provide each and every day. I look forward to seeing you at this year's annual conference." 
The opening plenary taking place on Monday May 26th at 9:30 am is titled "A National Dementia Strategy – What are we waiting for?" It will be moderated by former Deputy Premier and Minister of Health Kevin Falcon.
Panelists include Dr. Diane Finegood, President & CEO, Michael Smith Foundation for Health Research; Claude Gravelle, Member of Parliament (Nickel Belt); Mimi Lowi-Young, CEO, Alzheimer Society of Canada and Dr. Chris Simpson, President-Elect, Canadian Medical Association.
Isobel Mackenzie, BC's first-ever Seniors Advocate, will also take part in a special "Care to Chat" session. This will be her first major address to BC's continuing care sector since being appointed last March.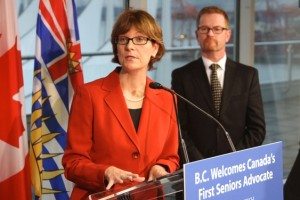 There are a total of 20 panel discussion taking place on a wide range of topics including the merits of introducing a new Silver Alert system in BC. Bill Fordy, Chief Superintendant of the Surrey RCMP, will be part of this panel along with James Stuart, President of the BC Association of Broadcasters.
"We hope to use this conference as an opportunity to focus more attention on the growing importance of senior's issues," says Dave Cheperdak, President of the BC Care Providers Association.  "Bringing together our expert panelists and delegates will certainly trigger some thought-provoking discussion. It also helps showcase the growing role of the Association when it comes to seniors care in BC."
A copy of individual session abstracts and the complete conference guide can be downloaded via the BCCPA website by clicking here. The event is open to the media.
-30-
For further information:
Daniel Fontaine, CEO
604-356-4165
About BCCPA: The BC Care Providers Association (BCCPA) is a non-profit society that has been serving private and non-profit community care providers for 37 years. The BCCPA has over 250 facility and commercial members across British Columbia. In addition to creating over 15,000 direct and indirect jobs in the continuing care sector, BCCPA members provide care for more than 21,000 seniors each day.