The Agewell Chataqua Project* invites you to create and submit small-scale artwork that expresses your thoughts and feelings about aging: What are your experiences, stories, hopes and challenges?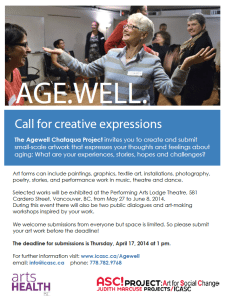 Art forms can include paintings, graphics, textile art, installations, photography, poetry, stories, and performance work in music, theatre and dance.
Selected works will be exhibited at the Performing Arts Lodge Theatre, 581 Cardero Street, Vancouver, BC, from May 27 to June 8, 2014. During this event there will also be two public dialogues and art-making workshops inspired by your work.
This invitation is open to everyone, and all are encouraged to submit reflective work that is thought-provoking and can be used as a starting point for further dialogue on the topic of aging and seniors' health and wellbeing.
For submission requirements, please click here.
***
*The Agewell Chataqua Project, funded in part by the City of Vancouver, is a partnership between Arts Health BC and Judith Marcuse Projects (JMP) and is part of the ASC! research project. Agewell questions the current aging paradigm, attempting to understand and tease apart conventions and assumptions from lived realities and experiences. With this understanding, the project will use arts-based facilitation to support cross-sector dialogue and collaboration to help improve seniors' wellbeing.
Heather Campbell, BCCPA Director of Policy & Research, is a member of the Agewell Chataqua Project Advisory Committee.