With a little over one week to go before the inaugural Care to Chat event, the BCCPA is pleased to announce we are now sold out.
"It's great to see this kind of interest in our new speaker series and a topic of concern to those caring for BC's seniors," says Daniel Fontaine, CEO for the BCCPA. "By bringing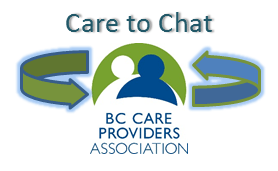 together representatives from the health and legal communities we hope to raise awareness and open up a dialogue on the important issue of resident on resident aggression."
Over 150 people will be in attendance for the panel discussion on November 7th whereby Attorney General Suzanne Anton will provide opening remarks. The panel will be moderated by Rick Cluff, host of the CBC's Early Edition.
"Developing solutions to better prevent and handle the aftermath of resident on resident aggression is a key reason we chose this topic for our inaugural session," says Heather Campbell, Director of Policy and Research for the BCCPA. "It is a complex topic that doesn't always lend itself to easy solutions. But we won't find answers unless we begin asking the right questions and bring all the key players to the table."
Joining Cluff for the panel discussion are:
Dr. Barry Cooper, Ph.D., R. Psych., Director of Research & Development, The Forensic Alliance
Dr. Gloria Gutman, Ph.D, FCAHS, OBC, LL.D (hon.), Gerontologist, Simon Fraser University
Patti Stark, LL.B, Criminal Defence Lawyer
Marnie Stickley, MSW, Social Worker, Vancouver Police Department, Elder Abuse Unit
The next Care to Chat event will take place on Wednesday, January 22, 2014 from 12-2 pm. The topic for this next discussion will be announced immediately upon the conclusion of our inaugural event.


Medical Pharmacies is the Platinum sponsor for the Care to Chat series.
BCCPA commercial members Rexall Specialty Pharmacy and law firm Coutts Pulver LLP are also sponsors.