Did you know that Spring Valley Care Centre celebrated its 40th anniversary in 2012? Although it has undergone a few name changes and expansion projects, a care facility has been operating on this property since 1972. And, there is one individual, their awesome hairdresser Ann Tataryn, who has served there the entire 40 years! The following is a summary of an interview with Ann outlining her years of service and the history of Spring Valley.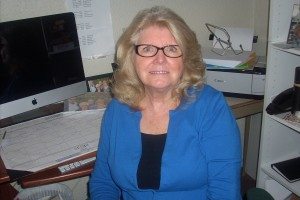 Ann's father owned and grew beans on all the property, this side of Ziprick Road, from Terai Road to Mission Creek. Ann's uncle and aunt, Bill and Stella Tataryn were thinking about buying some of the property on which to build a facility where seniors, unable to care for themselves any longer, could live and receive care. The project was the vision, or dream of Stella and, Bill always said "[he] was just the builder". When he asked for a $100,000 loan from the bank, the manager told him he was crazy, which tempted him to back out of the plan. But Stella persisted and told him to "just do it". The loan was approved. Bill and Stella built the facility by themselves except for hiring plumbers and electricians for those specialty jobs.
The Sun Valley Nursing Home, as the Tataryn's named it, opened in 1972, as a 40-bed care facility. There were rooms for residents and central washrooms – one for men and one for women. Stella took on the roles of: cook, housekeeper, dishwasher, medication dispenser, and gardener. As the building was right up along Ziprick Road, there was still a good sized piece of land on which to grow a garden. Vegetables of all kind were grown, picked, canned and frozen so as to provide the majority of the food served throughout the year.
Ann Tataryn came in to help her aunt in the Nursing Home. She had experience in caring for the ill from working 3 years at a Children's Hospital, then at Still Waters Rest Home as well as the Kelowna Hospital. She used her training as a hairdresser to wash, cut, curl, and pamper people in care homes who were not able to go to a salon. She served in this capacity at several homes. In the new Sun Valley Nursing Home, she did far more than hair. She also helped her aunt in the kitchen, doing housekeeping, and working as a care aide.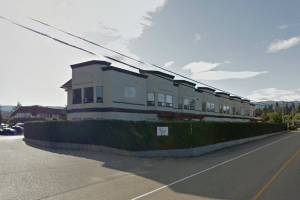 In 1979, Bill and Stella sold Sun Valley to a Mrs. Wilson, who hired Ann on as a hairdresser. At this time, she divided her services between Sun Valley and Sutherland Hills Rest Home. Mrs. Wilson was a wonderful employer, which made a job she already enjoyed just that much better. Ann was also hired on as Mrs. Wilson's personal home housekeeper. Someone had to do the housework as Mrs. Wilson's husband, sons and mother all worked at Sun Valley with her. The main change that occurred under this new ownership was that vegetables were no longer grown in the garden.
Sun Valley was busy and always full so an expansion plan was made. A new building, the Blue Section, was added to the property and is what is now known as the Vintage and Orchard neighbourhoods. This housed 70 residents, but was not always full because there were no waiting lists like there are today. The original Sun Valley continued to be operational at this time. In the new building Ann did her hairdressing in a little laundry room. Mrs. Wilson renamed the now 2 building facility Windsor Manor, and it was the most recommended place for seniors to receive full time care in Kelowna.
In the 1990's the demand for care facilities was growing, waiting lists became common, and the decision to expand again was made. At this time the original Sun Valley Nursing Home was torn down and the 'Green Section' was built. This housed what is now called the Pioneer and Sun Valley neighbourhoods. A connecting hallway was also built so the two building could become one large, 150 bed facility. Residents were being moved in before it was even completed. People were admitted amidst the hammering of boards and nails. A hairdressing room was built in the upstairs part (Sun Valley), and this has been Ann's permanent home to this day. Although hired as a hairdresser, she still always provided assistance at breakfast and lunch to residents who were no longer able to eat independently.
In 1999, Al Jina purchased Windsor Manor from Mrs. Wilson. A major upgrade was undertaken in 2009 where modernization projects were done within the neighbourhoods. Fresh new paint and interior decorating enhanced the home like atmosphere the owner was trying to create. It was at this time that the name was changed from Windsor Manor, to Spring Valley Care Centre, more fitting to the neighbourhood in which it is situated.
– Thanks to BCCPA member Park Place Seniors Living for submitting this story.