Care Provider of the Year Nominee: Rob Hopkins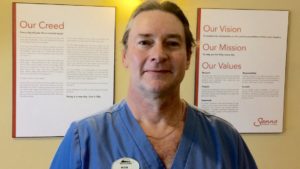 Rob Hopkins
Residential Care Aide
Mariposa Gardens | Siena Baltic
Osoyoos
Barry Hengel, General Manager, sent in the following nomination for Rob Hopkins:
Rob has been an integral part of excellence in health care at Mariposa Gardens in Osoyoos, BC since February 2009. He continually demonstrates a magnanimous skill level and compassion for all who come into his care. Rob has been working since 2009 as a Care Aide in the most secure neighborhood (Memory Lane) at Mariposa Gardens, servicing a mixed population of advanced dementia, behavioral response (potentially violent) and socially inappropriate residents. Furthermore, the Health Authority has identified Mariposa and Memory Lane as the de facto neighbourhood to which high risk residents can be safely placed for the entire South Okanagan. Time and time again, Rob demonstrates leadership by having the fortitude and resilience to handle any work load with demanding residents. Management and staff alike look to Rob for helping develop and maintain comprehensive care plans that continually adapt to the most advantageous care available for these difficult and challenging residents.  Rob always puts residents and staff ahead of himself, never gives up, and leads by example.
Rob is perhaps the single most recognizable person at Mariposa Gardens who defines what this award stands for. His skill level, compassion, and commitment to excellence has always been recognized by all his peers including co-workers, supervisors, management, licensing, and ownership. His co-workers and supervisors always look to Rob for leadership and for setting the tone in the neighborhood. All students who train under Rob's direction have always commented on how relaxed and calm Rob is when delivering care, he never gets rattled and this has always left a lasting impression for these soon to be health care professionals. Furthermore, Rob is a formidable facilitator in helping develop the necessary skill sets these students need, showing an uncanny ability to help these students achieve confidence, knowledge and compassion. In closing, it is with great appreciation and gratitude that I nominate Rob Hopkins for this award, and all those who know him would acknowledge him as most deserving.
**
Click here to read others who have received 2017 BC Care Awards recognition.