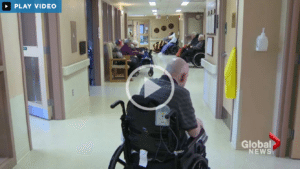 For seniors living in isolation or without companionship, the holiday season can be especially difficult.
It's one reason the BC Care Providers Association is encouraging everyone with a friend or family member in care or living on their own to take some time out for a special visit over the holiday season.
"Up to one-fifth of seniors do describe feeling alone and isolated during the holidays so our suggestion is make sure you do reconnect with loved ones over the holidays," Mike Klassen, vice-president of BC Care Providers Association says.

"Family members and friends and even neighbours if you can."
An in-person visit or even a phone call can make all the difference to a senior's life. According to a federal report on the social isolation of seniors, as many as 44 per cent of them living in residential care in Canada have been diagnosed with depression and men over the age of 80 are among the highest suicide rates of all age groups.
"Over the holidays it becomes even more sentimental. This is the time it really matters the most," Klassen says.
"It is the time when most of us take a step back and try to slow down. It's a time when people really want to connect with loved ones, family members and friends. There's no substitute for that in-person contact or phone call."
Time and care are some of the nicest gifts a person can give to a senior, Klassen says.
"It is time you each can enjoy together, and it could lead to some very positive health effects for someone you love."
Source: Global TV
Byline: Paula Baker, Online News Producer, Global News