Seniors Care for a Change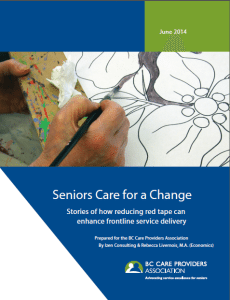 Earlier this year the BCCPA released our Seniors Care for a Change report. It outlined a number of areas of red tape and overregulation when it comes to the BC continuing care sector. The report received quite a bit of media upon its release.
Next month, the BCCPA has been invited to meet with the Ministry of Health and the various Health Authorities to discuss this report. We hope to open up a dialogue with the various decision-makers regarding which areas of the report could be addressed in the near and long-term. We will report out to you regarding any progress made over the coming months.