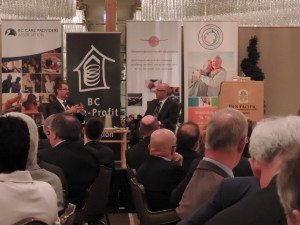 The 2nd Annual Minister of Health Lunch was a huge success. The BCCPA sold over 170 tickets for this event that was attended by just over 370 people from across the sector and the business community.
Following opening remarks from sponsors and the co-hosts, Minister Lake took to the podium to deliver his keynote address which focused on the "puzzle pieces" of providing person-centered care for BC Seniors. Lake noted how there are often cases of patients receiving acute care, when primary and community care is clearly the better option for both seniors and taxpayers. He indicated it as an area where he is hopeful to work with the continuing care sector to achieve a set of goals that mutually align.
Within his speech, Lake also announced that the BC Government would be undertaking a careful review over the coming months of the Care Aide Registry and its effectiveness in protecting seniors.
He mentioned government was consulting with the College of Licensed Practical Nurses and College of Registered Nurses to see if there is any way care aides could become self-regulated through one of these bodies. This would be a major shift from the current Care Aide Registry model which the BCCPA has noted is riddled with a number of critical deficiencies and is not doing the best job possible to protect seniors.
We will continue to advocate for major changes to BC's Care Aide Registry and very much welcome the Minister's willingness to look at another model.