Background

BCCPA was awarded a grant by the BC Ministry of Health to develop and manage a new province-wide Seniors Safety and Quality Improvement Program (SSQIP). Currently, all non-government publicly funded residential care homes operating within the province are eligible to participate
Guiding Principles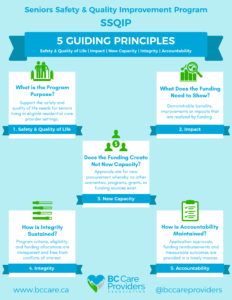 In October 2017, the Guiding Principles of the program and how grants will be distributed were established and can be viewed here.
Advisory Committee
The BCCPA has established a SSQIP Advisory Committee in order to ensure we effectively and efficiently invest the program funds. The Committee is comprised of appointed representatives from the following organizations that work with all of BC's care providers:
BC Ministry of Health (one rep)
Denominational Health Association (one rep)
SafeCare BC (one rep)
BC Care Providers (two reps)

Timelines
1. RFP for an industry needs assessment: Completed in September 2017
2. Pilot needs assessment: Completed in October 2017
3. Deploy needs assessment to sector: Completed in November, 2017
4. Application eligibility and criteria: Communicated in December 2017
5. Period 1 & 2  – 2018: Funded
6. Period 3 & 4 – 2019: Funded
Needs Assessment
The BCCPA contracted an external consultant to conduct a comprehensive province-wide needs assessment focusing on current and future requirements for equipment purchases to support the effective and safe delivery of high quality seniors care in the province. Extensive participation by long-term care providers in the needs assessment played a critical role in capturing all information for the development of the application criteria and eligibility.
The needs assessment findings and application expectations are published and can be reviewed here.
Application Criteria and Eligibility
The guidelines and eligibility criteria can be reviewed here.
FAQ's
Find frequently asked questions about SSQIP here.
Terms and Conditions
The SSQIP Terms and Conditions can be reviewed here prior to initiating your application.
Application Steps
Before starting your application, please refer to the step-by-step application guide.
Intended Outcomes
Use the intended outcomes document to help you complete the application.
Application Link
The SSQIP application can be found here.
Contact Us
Snezana Ristovski, Director of Programs
snezana@bccare.ca, (604) 736-4233 x 244
We experience a high volume of calls and inquiries during application and funding periods. We will be happy to assist you as soon as we can!
Walk-Through
Please contact snezana@bccare.ca to schedule a time that works best for you.