BC Care Providers Association (BCCPA) is delighted to announce Karen Biggs as the winner of this year's Ed Helfrich Long-Service Excellence Award.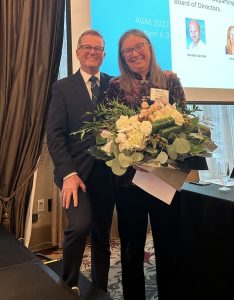 Retiring today after 41 years in the seniors care sector, Karen has demonstrated a deep commitment to supporting seniors throughout her entire career.
For decades, Karen has served as CEO at numerous care homes, including Menno Place most recently. Prior to joining Menno Place, Karen served as the Executive Director of Laurel Place in Surrey and at Vancouver's first campus of care, Haro Park Centre. Karen began her leadership in the seniors care sector in a 30 year-old family-owned business which operated three small care homes.
Karen has taken on many roles in the sector, from mentorship to family support, executive leadership, non-profit awareness and advocacy. She has also been an accreditor for Accreditation Canada, a Board member for the BC Health Care Occupational Health and Safety Society, and has been heavily involved in the Canadian College of Health Leaders and has served on working groups and committees within Fraser Health.
Karen has been associated with BCCPA since its beginnings in 1980, when it was known as Pri-Care, and has seen its growth into a respected association representing 450 organizations across the seniors' living and care continuum. She has served twice as President on BCCPA's Board of Directors, stepping up as Interim President this past year.
A thoughtful leader who constantly makes innovative change for seniors, Karen was instrumental in getting families the opportunity to see their loved ones in long-term care homes during the COVID-19 pandemic Public Health Order. By hiring families, Karen's prompt action highlighted the importance of family caregivers as a support to family members in long-term care homes.
BCCPA applauds Karen for her exemplary leadership throughout the years in the seniors care sector and wishes her a fantastic retirement.
The 9th Annual BC Care Awards took place on February 28th, 2023 at the Fairmont Empress in Victoria, B.C. Click here to read our wrap-up post.
Thank you to CareRX for sponsoring the Ed Helfrich Long-Service Excellence Award.