Every year, the BC Care Awards celebrate exceptional individuals who deliver the best care to our seniors. Throughout the week, BC Care Providers Association (BCCPA) will announce BC Care Provider of the Year Award winners in the home health, assisted living, and long-term care award categories. Announcements for the recipients of the Family Champion and the Ed Helfrich Long-Service Excellence awards will also be announced.
BCCPA is pleased to announce Patricia Asto of Hero Home Care as the first winner of the BC Care Provider of the Year Award in the Home Health category. Along with the other award recipients, Patricia will be publicly recognized and presented her award during the 9th Annual BC Care Awards on February 28th in Victoria, B.C.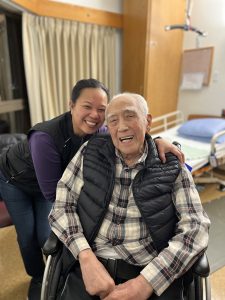 Patricia has been a hero with Hero Home Care since 2018 but has been caring for people for as long as she can remember. After coming to Canada in 2002, Patricia knew she wanted to pursue her passion for helping others and soon applied for the Health Care Assistant program, graduating in 2008 from Vancouver Career College. She quickly found a job as the primary caregiver for quadriplegic client of whom she cared for over 10 years.
As a professional and detail-oriented caregiver, Patricia is most of all committed to her customers health and wellbeing. Patricia is one of the most requested heroes from Hero Home Care customers. Clients know that Patricia is much more than a "caregiver," but a friend who will inspire and leave them and their home better off than when she arrived.
"Some people make the world a better place. That is Pat. Invariably she does something to help her customers live, work, feel or think better. She identifies what makes them happy and helps them discover the things that make their lives worthwhile." – Hero Home Care Manager
BCCPA congratulates Patricia and celebrates her commitment to the health and wellbeing of the seniors she cares for.
The 9th Annual BC Care Awards took place on February 28th, 2023 at the Fairmont Empress in Victoria, B.C. Click here to read our wrap-up post.
Thank you to MIP for sponsoring the BC Care Provider of the Year in Home Health Award.